This preview shows page 1. Sign up to view the full content.
View Full Document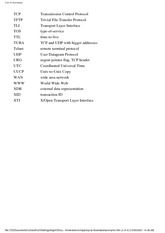 This is the end of the preview.
Sign up
to access the rest of the document.
Unformatted text preview: ee [Lynch 1993]. 1.2 Layering Networking protocols are normally developed in layers, with each layer responsible for a different facet of the communications. A protocol suite, such as TCP/IP, is the combination of different protocols at various layers. TCP/IP is normally considered to be a 4-layer system, as shown in Figure 1.1. Application Telnet, FTP, e-mail, etc. Transport TCP, UDP Network IP, ICMP, IGMP Link device driver and interface card Figure 1.1 The four layers of the TCP/IP protocol suite. Each layer has a different responsibility. 1. The link layer, sometimes called the data-link layer or network interface layer, normally includes the device driver in the operating system and the corresponding network interface card in the computer. Together they handle all the hardware details of physically interfacing with the cable (or whatever type of media is being used). 2. The network layer (sometimes called the internet layer) handles the movement of packets around the network. Routing of packets, for example, takes place here. IP (Internet Protocol), ICMP (Internet Control Message Protocol), and IGMP (Internet Group Management Protocol) provide the network layer in the TCP/IP protocol suite. 3. The transport layer provides a flow of data between two hosts, for the application layer above. In the TCP/IP protocol suite there are two vastly different transport protocols: TCP (Transmission Control Protocol) and UDP (User Datagram Protocol). file:///D|/Documents%20and%20Settings/bigini/Docu...homenet2run/tcpip/tcp-ip-illustrated/introduc.htm (1 of 20) [12/09/2001 14.46.31] Chapter 1. Introduction TCP provides a reliable flow of data between two hosts. It is concerned with things such as dividing the data passed to it from the application into appropriately sized chunks for the network layer below, acknowledging received packets, setting timeouts to make certain the other end acknowledges packets that are sent, and so on. Because this reliable flow of data is provided by the transport layer, the ap...
View Full Document
This test prep was uploaded on 04/04/2014 for the course ECE EL5373 taught by Professor Guoyang during the Spring '12 term at NYU Poly.