This preview shows page 1. Sign up to view the full content.
View Full Document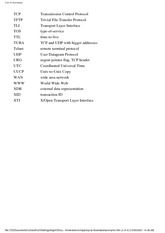 This is the end of the preview.
Sign up
to access the rest of the document.
Unformatted text preview: e prose, and his thorough reviews of the manuscript are an immense resource to a writer. Technical reviewers provide a different point of view and keep the author honest by catching technical mistakes. Their comments, suggestions, and (most importantly) criticisms add greatly to the final product. My thanks to Steve Bellovin, Jon Crowcroft, Pete Haverlock, and Doug Schmidt for comments on the entire manuscript. Equally valuable comments were provided on portions of the manuscript by Dave Borman, Tony DeSimone, Bob Gilligan, Jeff Gitlin, John Gulbenkian, Tom Herbert, Mukesh Kacker, Barry Margolin, Paul Mockapetris, Burr Nelson, Steve Rago, James Risner, Chris Walquist, Phil Winterbottom, and Gary Wright. A special thanks to Dave Borman for his thorough review of all the TCP chapters, and to Bob Gilligan who should be listed as a coauthor for Appendix E. An author cannot work in isolation, so I would like to thank the following persons for lots of small favors, especially by answering my numerous e-mail questions: Joe Godsil, Jim Hogue, Mike Karels, Paul Lucchina, Craig Partridge, Thomas Skibo, and Jerry Toporek. This book is the result of my being asked lots of questions on TCP/IP for which I could find no quick, immediate answer. It was then that I realized that the easiest way to obtain the answers was to run small tests, forcing certain conditions to occur, and just watch what happens. I thank Pete Haverlock for asking the probing questions and Van Jacobson for providing so much of the publicly available software that is used in this book to answer the questions. A book on networking needs a real network to work with along with access to the Internet. My thanks to the National Optical Astronomy Observatories (NOAO), especially Sidney Wolff, Richard Wolff, and Steve Grandi, for providing access to their networks and hosts. A special thanks to Steve Grandi for answering lots of questions and providing accounts on various hosts. My thanks also to Keith Bostic and Kirk McKu-sick at the U....
View Full Document
This test prep was uploaded on 04/04/2014 for the course ECE EL5373 taught by Professor Guoyang during the Spring '12 term at NYU Poly.