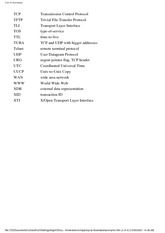 This is the end of the preview.
Sign up
to access the rest of the document.
Unformatted text preview: packet exchange between this client and server. The client's port number (1106 in this example) doesn't change, tcpdump has no idea that port 1077 on host svr4 is really a TFTP server. The reason the server's port number changes is so the server doesn't tie up the well-known port for the amount of time required to transfer the file (which could be many seconds or even minutes). Instead, the well-known port is left available for other TFTP clients to send their requests to, while the current transfer is under way. Recall from Figure 10.6 that when the RIP server had more than 512 bytes to send to the client, both UDP datagrams came from the server's well-known port. In that example, even though the server had to write multiple datagrams to send all the data back, the server did one write, followed by the next, both from its well-known port. Here, with TFTP, the protocol is different since there is a longer term relationship between the client and server (which we said could be seconds or minutes). If one server process used the well-known port for the duration of the file transfer, it would either have to refuse any further requests that arrived from other clients, or that one server process would have to multiplex file transfers with multiple clients at the same time, on the same port (69). The simplest solution is to have the server obtain a new port after it receives the RRQ or WRQ. Naturally the client must detect this new port when it receives the first data packet (line 2 in Figure 15.2) and then send all further acknowledgments (lines 3 and 5) to that new port. In Section 16.3 we'll see TFTP used when an X terminal is bootstrapped. 15.4 Security Notice in the TFTP packets (Figure 15.1) that there is no provision for a username or password. This is a feature (i.e., "security hole") of TFTP. Since TFTP was designed for use during the bootstrap process it could be impossible to provide a username and password. This feature of TFTP was used by many crack...
View Full Document
This test prep was uploaded on 04/04/2014 for the course ECE EL5373 taught by Professor Guoyang during the Spring '12 term at NYU Poly.