This preview shows page 1. Sign up to view the full content.
View Full Document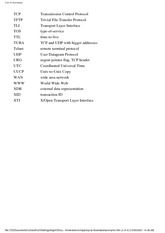 This is the end of the preview.
Sign up
to access the rest of the document.
Unformatted text preview: o external routers. Using our example network, all IP addresses have the class B network ID of 140.252. But there are more than 30 subnets and more than 400 hosts distributed over those subnets. A single router provides the connection to the Internet, as shown in Figure 3.6. In this figure we have labeled most of the routers as Rn, where n is the subnet number. We show the routers that connect these subnets, along with the nine systems from the figure on the inside front cover. The Ethernets are shown as thicker lines, and the point-to-point links as dashed lines. We do not show all the hosts on the various subnets. For example, there are more than 50 hosts on the 140.252.3 subnet, and more than 100 on the 140.252.1 subnet. The advantage to using a single class B address with 30 subnets, compared to 30 class C addresses, is that subnetting reduces the size of the Internet's routing tables. The fact that the class B address 140.252 is subnetted is transparent to all Internet routers other than the ones within the 140.252 subnet. To reach any host whose IP file:///D|/Documents%20and%20Settings/bigini/Docu...homenet2run/tcpip/tcp-ip-illustrated/ip_inter.htm (10 of 19) [12/09/2001 14.46.37] Chapter 3. IP: Internet Protocol Figure 3.6 Arrangement of most of the noao.edu 140.252 subnets. address begins with 140.252, the external routers only need to know the path to the IP address 140.252.104.1. This means that only one routing table entry is needed for all the 140.252 networks, instead of 30 entries if 30 class C addresses were used. Subnetting, therefore, reduces the size of routing tables. (In Section 10.8 we'll look at a new technique that helps reduce the size of routing tables even if class C addresses are used.) To show that subnetting is not transparent to routers within the subnet, assume in Figure 3.6 that a datagram arrives at gateway from the Internet with a destination address of 140.252.57.1. The router gateway needs to know that the subnet number is 57, and that datagrams for this subnet are sent to kpno. Similarly kpno must...
View Full Document
This test prep was uploaded on 04/04/2014 for the course ECE EL5373 taught by Professor Guoyang during the Spring '12 term at NYU Poly.