This preview shows page 1. Sign up to view the full content.
View Full Document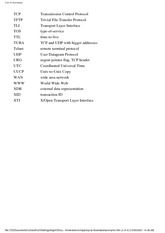 This is the end of the preview.
Sign up
to access the rest of the document.
Unformatted text preview: , although some programs (such as Traceroute) may not be provided on all systems. Typographical Conventions When we display interactive input and output we'll show our typed input in a bold font, and the computer output like this. Comments are added in italics. bsdi % telnet svr4 discard connect to the discard server Trying 140.252.13.34... this line and next output by Telnet client Connected to svr4. Also, we always include the name of the system as part of the shell prompt (bsdi in this example) to show on which host the command was run. Throughout the text we'll use indented, parenthetical notes such as this to describe historical points or implementation details. We sometimes refer to the complete description of a command in the Unix manual as in ifconfig(8). This notation, the name of the command followed by a number in parentheses, is the normal way of referring to Unix commands. The number in parentheses is the section number in the Unix manual of the "manual page" for the command, where additional information can be located. Unfortunately not all Unix systems organize their manuals the same, with regard to the section numbers used for various groupings of commands. We'll use the BSD-style section numbers (which is the same for BSD-derived systems such as SunOS 4.1.3), but your manuals may be organized differently. Acknowledgments file:///D|/Documents%20and%20Settings/bigini/Docum...i/homenet2run/tcpip/tcp-ip-illustrated/preface.htm (4 of 6) [12/09/2001 14.46.28] Preface Although the author's name is the only one to appear on the cover, the combined effort of many people is required to produce a quality text book. First and foremost is the author's family, who put up with the long and weird hours that go into writing a book. Thank you once again, Sally, Bill, Ellen, and David. The consulting editor, Brian Kernighan, is undoubtedly the best in the business. He was the first one to read various drafts of the manuscript and mark it up with his infinite supply of red pens. His attention to detail, his continual prodding for readabl...
View Full Document
This test prep was uploaded on 04/04/2014 for the course ECE EL5373 taught by Professor Guoyang during the Spring '12 term at NYU Poly.