This preview shows page 1. Sign up to view the full content.
View Full Document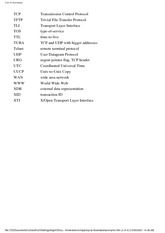 This is the end of the preview.
Sign up
to access the rest of the document.
Unformatted text preview: is called the agent. Management stations are normally workstations with color monitors that graphically display relevant facts about the elements being monitored (which links are up and down, volume of traffic across various links over time, etc.). "The communication can be two way: the manager asking the agent for a specific value ("how many ICMP port unreachables have you generated?"), or the agent telling the manager that something important happened ("an attached interface has gone down"). Also, the manager should be able to set variables in the agent ("change the value of the default IP TTL to 64"), in addition to reading variables from the agent. TCP/IP network management consists of three pieces. 1. A Management Information Base (MIB) that specifies what variables the network elements maintain (the information that can be queried and set by the manager). RFC 1213 [McCloghrie and Rose 1991] defines the second version of this, called MIB-II. 2. A set of common structures and an identification scheme used to reference the variables in the MIB. This is called the Structure of Management Information (SMI) and is specified in RFC 1155 [Rose and McCloghrie 1990]. For example, the SMI specifies that a Counter is a nonnegative integer that counts from 0 through 4,294,967,295 and then wraps around to 0. 3. The protocol between the manager and the element, called the Simple Network Management Protocol (SNMP). RFC 1157 [Case et al. 1990] specifies the protocol. This details the format of the packets exchanged. Although a wide variety of transport protocols could be used, UDP is normally used with SNMP. These RFCs define what is now called SNMPv1, or just SNMP, which is the topic of this chapter. During 1993 additional RFCs were published specifying SNMP Version 2 (SNMPv2), which we describe in Section 25.12. Our approach to SNMP in this chapter is to describe the protocol between the manager and the agent first, and then look at the data types for th...
View Full Document
This test prep was uploaded on 04/04/2014 for the course ECE EL5373 taught by Professor Guoyang during the Spring '12 term at NYU Poly.