This preview shows page 1. Sign up to view the full content.
View Full Document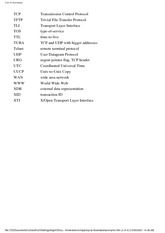 This is the end of the preview.
Sign up
to access the rest of the document.
Unformatted text preview: field puts an upper limit on these looping datagrams. When a router gets an IP datagram whose TTL is either 0 or 1 it must not forward the datagram. (A destination host that receives a datagram like this can deliver it to the application, since the datagram does not have to be routed. Normally, however, no system should receive a datagram with a TTL of 0.) Instead the router throws away the datagram and sends back to the originating host an ICMP "time exceeded" message. The key to Traceroute is that the IP datagram containing this ICMP message has the router's IP address as the source address. We can now guess the operation of Traceroute. It sends an IP datagram with a TTL of 1 to the destination host. The first router to handle the datagram decrements the TTL, discards the datagram, and sends back the ICMP time exceeded. This identifies the first router in the path. Traceroute then sends a datagram with a TTL of 2, and we find the IP address of the second router. This continues until the datagram reaches the destination host. But even though the arriving IP datagram has a TTL of 1, the destination host won't throw it away and generate the ICMP time exceeded, since the datagram has reached its final destination. How can we determine when we've reached the destination? Traceroute sends UDP datagrams to the destination host, but it chooses the destination UDP port number to be an unlikely value (larger than 30,000), making it improbable that an application at the destination is using that port. This causes the destination host's UDP module to generate an ICMP "port unreachable" error (Section 6.5) when the datagram arrives. All Traceroute needs to do is differentiate between the received ICMP messagestime exceeded versus port unreachable-to know when it's done. The Traceroute program must be able to set the TTL field in the outgoing datagram. Not all programming interfaces to TCP/IP support this, and not all implementations support the capability, but most current systems do, and are able to run...
View Full Document
This test prep was uploaded on 04/04/2014 for the course ECE EL5373 taught by Professor Guoyang during the Spring '12 term at NYU Poly.