This preview shows page 1. Sign up to view the full content.
View Full Document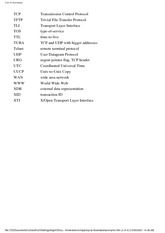 This is the end of the preview.
Sign up
to access the rest of the document.
Unformatted text preview: tch is the default route. What if there is no default route, and a match isn't found for a given destination? The answer depends on whether the IP datagram being routed was generated on the host or is being forwarded (e.g., we're acting as a router). If the datagram was generated on this host, an error is returned to the application that sent the datagram, either "host unreachable" or "network unreachable." If the datagram was being forwarded, an ICMP host unreachable error is sent back to original sender. We examine this error in the following section. 9.3 ICMP Host and Network Unreachable Errors The ICMP "host unreachable" error message is sent by a router when it receives an IP datagram that it cannot deliver or forward. (Figure 6.10 shows the format of the ICMP unreachable messages.) We can see this easily on our network by taking down the dialup SLIP link on the router sun, and trying to send a packet through the SLIP link from any of the other hosts that specify sun as the default router. Older implementations of the BSD TCP/IP software generated either a host unreachable, or a network unreachable, depending on whether the destination was on a local subnet or not. 4.4BSD generates only the host unreachable. Recall from the netstat output for the router sun shown in the previous section that the routing table entries that use the SLIP link are added when the SLIP link is brought up, and deleted when the SLIP link is brought down. This means that when the SLIP link is down, there is no default route on sun. But we don't try to change all the other host's routing tables on our small network, having them also remove their default route. Instead we count on the ICMP host unreachable generated by sun for any packets that it gets that it cannot forward. We can see this by running ping on svr4, for a host on the other side of the dialup SLIP link (which is down): svr4 % ping gemini file:///D|/Documents%20and%20Settings/bigini/Docum...i/homenet2run/t...
View Full Document
This test prep was uploaded on 04/04/2014 for the course ECE EL5373 taught by Professor Guoyang during the Spring '12 term at NYU Poly.