This preview shows page 1. Sign up to view the full content.
View Full Document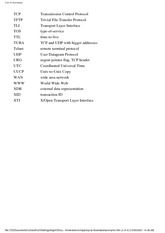 This is the end of the preview.
Sign up
to access the rest of the document.
Unformatted text preview: source IP address is often 0.0.0.0 since the client does not know its own IP address yet. Recall from Figure 3.9 that 0.0.0.0 is a valid source IP address when a system is bootstrapping itself. Port Numbers There are two well-known ports for BOOTP: 67 for the server and 68 for the client. This means the client does not choose an unused ephemeral port, but uses 68 instead. The reason two port numbers were chosen, instead of just one for the server, is that a server's reply can be (but normally isn't) broadcast. If the server's reply were broadcast, and if the client were to choose an ephemeral port number, these broadcasts would also be received by other applications on other hosts that happen to be using the same ephemeral port number. Hence, it is considered bad form to broadcast to a random (i.e., ephemeral) port number. If the client also used the server's well-known port (67) as its port, then all servers on the network are awakened to look at each broadcast reply. (If all the servers were awakened, they would examine the opcode, see that it's a reply and not a request, and go back to sleep.) Therefore the choice was made to have all clients use a single well-known port that differs file:///D|/Documents%20and%20Settings/bigini/Documenti/homenet2run/tcpip/tcp-ip-illustrated/bootp.htm (3 of 9) [12/09/2001 14.47.08] Chapter 16. BOOTP: Bootstrap Protocol from the server's well-known port. If multiple clients are bootstrapping at the same time, and if the server broadcasts the replies, each client sees the replies intended for the other clients. The clients can use the transaction ID field in the BOOTP header to match replies with requests, or the client can examine the returned client hardware address. 16.3 An Example Let's look at an example of BOOTP when an X terminal is bootstrapped. Figure 16.3 shows the tcpdump output. (The client's name is proteus and the server's name is mercury. This tcpdump output was obtained on a different network from the one we've been using for all the other examples in the tex...
View Full Document
This test prep was uploaded on 04/04/2014 for the course ECE EL5373 taught by Professor Guoyang during the Spring '12 term at NYU Poly.