This preview shows page 1. Sign up to view the full content.
View Full Document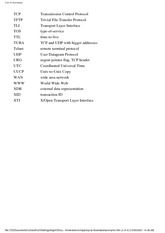 This is the end of the preview.
Sign up
to access the rest of the document.
Unformatted text preview: e TCP/IP protocols. We do not provide all the details on running these applications. file:///D|/Documents%20and%20Settings/bigini/Docum...i/homenet2run/tcpip/tcp-ip-illustrated/preface.htm (2 of 6) [12/09/2001 14.46.28] Preface Readers This book is self-contained and assumes no specific knowledge of networking or TCP/IP. Numerous references are provided for readers interested in additional details on specific topics. This book can be used in many ways. It can be used as a self-study reference and covered from start to finish by someone interested in all the details on the TCP/IP protocol suite. Readers with some TCP/IP background might want to skip ahead and start with Chapter 7, and then focus on the specific chapters in which they're interested. Exercises are provided at the end of the chapters, and most solutions are in Appendix D. This is to maximize the usefulness of the text as a self-study reference. When used as part of a one- or two-semester course in computer networking, the focus should be on IP (Chapters 3 and 9), UDP (Chapter 11), and TCP (Chapters 17-24), along with some of the application chapters. Many forward and backward references are provided throughout the text, along with a thorough index, to allow individual chapters to be studied by themselves. A list of all the acronyms used throughout the text, along with the compound term for the acronym, appears on the inside back covers. If you have access to a network you are encouraged to obtain the software used in this book (Appendix F) and experiment on your own. Hands-on experimentation with the protocols will provide the greatest knowledge (and make it more fun). Systems Used for Testing Every example in the book was run on an actual network and the resulting output saved in a file for inclusion in the text. Figure 1.11 shows a diagram of the different hosts, routers, and networks that are used. (This figure is also duplicated on the inside front cover for easy reference while reading the book.) This collection of networks is simple enough that the...
View Full Document
This test prep was uploaded on 04/04/2014 for the course ECE EL5373 taught by Professor Guoyang during the Spring '12 term at NYU Poly.