This preview shows page 1. Sign up to view the full content.
View Full Document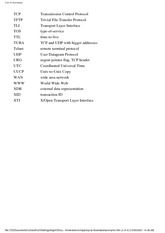 This is the end of the preview.
Sign up
to access the rest of the document.
Unformatted text preview: ch connection, the starting sequence number of the data in the segment is also remembered. When an acknowledgment that includes this sequence number is received, the timer is turned off. If the data was not retransmitted when the ACK arrives, the smoothed RTT and smoothed mean deviation are updated based on this new measurement. The timer for the connection in Figure 21.2 is started when segment 1 is transmitted, and turned off when its acknowledgment (segment 2) arrives. Although its RTT is 1.061 seconds (from the tcpdump output), examining the socket debug information shows that three of TCP's clock ticks occurred during this period, implying an RTT of 1500 ms. The next segment timed is number 3. When segment 4 is transmitted 2.4 ms later, it cannot be timed, since the timer for this connection is already in use. When segment 5 arrives, acknowledging the data that was being timed, its RTT is calculated to be 1 tick (500 ms), even though we see that its RTT is 0.808 seconds from the tcpdump output. The timer is started again when segment 6 is transmitted, and turned off when its acknowledgment (segment 10) is received 1.015 seconds later. The measured RTT is 2 clock ticks. Segments 7 and 9 cannot be timed, since the timer is already being used. Also, when segment 8 is received (the ACK of 769), nothing is updated since the acknowledgment was not for bytes being timed. Figure 21.3 shows the relationship in this example between the actual RTTs that we can determine from the tcpdump output, and the counted clock ticks. Figure 21.3 RTT measurements and clock ticks. On the top we show the clock ticks, every 500 ms. On the bottom we show the times output by tcpdump, and when the timer for the connection is turned on and off. We know that 3 ticks occur between sending segment 1 and receiving segment 2, 1.061 seconds later, so we assume the first tick occurs at time 0.03. (The first tick must be between 0.00 and 0.061.) The figure then shows how the second measured RTT was counted as 1 tick, and the third as 2 ticks. In this complete example, 128 segments wer...
View Full Document
This test prep was uploaded on 04/04/2014 for the course ECE EL5373 taught by Professor Guoyang during the Spring '12 term at NYU Poly.