This preview shows page 1. Sign up to view the full content.
View Full Document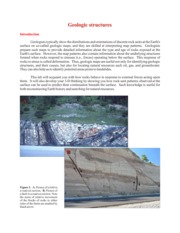 This is the end of the preview.
Sign up
to access the rest of the document.
Unformatted text preview: /. Click on the menu option "Interactive 3D Geologic Blocks." Click on the "Abbreviated Module" line then choose "Module." Complete the attached worksheet as we go through the module in class. PART 2 Figure 1. This is part of a geologic map from Salt Lake City, Utah. On the right part of the map there are mountains where as on the left side there is a valley. These mountains are formed by the Wasatch fault running north to south (Black Line). The age of the top rock layers are indicated by the...
View Full Document
This document was uploaded on 04/10/2014.