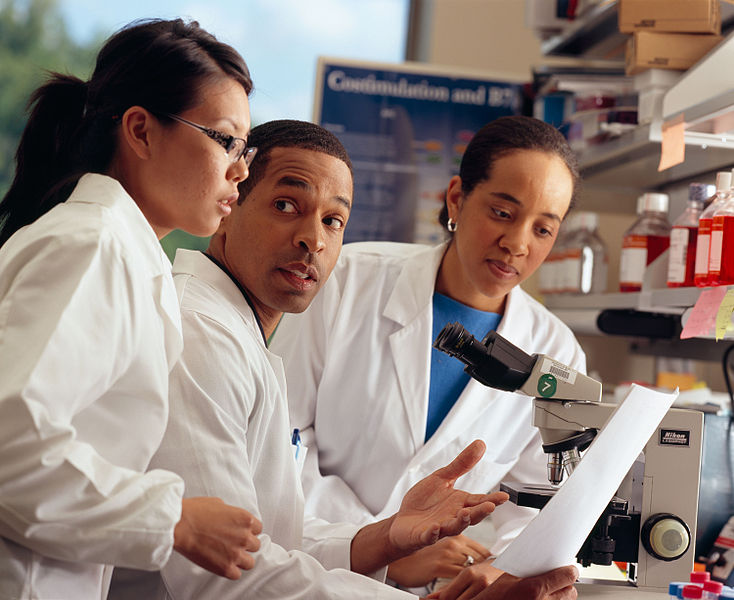 If you think about the vast array of fields and topics covered in psychology, you understand that in order to do psychological research, there must be a diverse set of ways to gather data and perform experiments. For example, a biological psychologist might work predominately in a lab setting or alongside a neurologist. A social scientist may set up situational experiments, a health psychologist may administer surveys, and a developmental psychologist may make observations in a classroom. In this section, you'll learn about the various types of research methods that psychologists employ to learn about human behavior.
When designing a study, typically, researchers choose a quantitative or qualitative research design. In some cases, a mixed-method approach may be appropriate. Which approach used will develop on the research question and the type of information sought. Quantitative methods may be better for understanding what is happening, while qualitative methods may be better for understanding the hows and why of a phenomenon.
[video width="1726" height="1076" mp4="https://s3-us-west-2.amazonaws.com/courses-images/wp-content/uploads/sites/4912/2020/05/02061716/Qualitative-Quantitative-Research-1.mp4"][/video]
Video 2.3.1. 
Types of Research
explains the difference between qualitative and quantitative research. A closed-captioned version of this video is available
here
.
Quantitative Research
Quantitative research
typically starts with a focused research question or hypothesis, collects a small amount of data from each of a large number of individuals, describes the resulting data using statistical techniques, and draws general conclusions about some large population. The strength of quantitative research is its ability to provide precise answers to specific research questions and to draw general conclusions about human behavior; however, it is not nearly as good at 
generating 
novel and interesting research questions. Likewise, while quantitative research is good at drawing general conclusions about human behavior, it is not nearly as good at providing detailed descriptions of the behavior of particular groups in particular situations. And it is not very good at all at communicating what it is actually like to be a member of a particular group in a particular situation. But the relative weaknesses of quantitative research are the relative strengths of qualitative research.
Qualitative Research
Although this is by far the most common approach to conducting empirical research in psychology, there is a vital alternative called
qualitative research
. Qualitative research can help researchers to generate new and interesting research questions and hypotheses. Qualitative researchers generally begin with a less focused research question, collect large amounts of relatively "unfiltered" data from a relatively small number of individuals, and describe their data using nonstatistical techniques. They are usually less concerned with drawing general conclusions about human behavior than with understanding in detail the 
experience 
of their research participants. Qualitative research can also provide rich and detailed descriptions of human behavior in the real-world contexts in which it occurs. Similarly, qualitative research can convey a sense of what it is actually like to be a member of a particular group or in a particular situation—what qualitative researchers often refer to as the 'lived experience' of the research participants.
Mixed-Methods
Given their differences, it may come as no surprise that quantitative and qualitative research do not coexist in complete harmony. Some quantitative researchers criticize that qualitative methods lack objectivity, are challenging to evaluate, and do not allow generalization to other people or situations. At the same time, some qualitative researchers criticize that quantitative methods overlook the richness of behavior and experience, and instead answer simple questions about easily quantifiable variables. However, many researchers from both camps now agree that the two approaches can and should be combined into what has come to be called mixed-methods research (Todd, Nerlich, McKeown, & Clarke, 2004). One approach to combining quantitative and qualitative research is to use qualitative research for hypothesis generation and quantitative research for hypothesis testing. A second approach to combining quantitative and qualitative research is referred to as triangulation. The idea is to use both quantitative and qualitative methods simultaneously to study the same general questions and to compare the results. If the results of the quantitative and qualitative methods converge on the same general conclusion, they reinforce and enrich each other. If the results diverge, then they suggest an interesting new question: Why do the results diverge, and how can they be reconciled?
Video 2.3.2. 
What are Qualitative and Quantitative Variables
explains the difference between quantitative and qualitative variables that may be used in research.
https://assessments.lumenlearning.com/assessments/16500
Becoming Familiar with Research
An excellent way to become more familiar with these research approaches, both quantitative and qualitative, is to look at journal articles, which are written in sections that follow these steps in the scientific process. Most psychological articles and many papers in the social sciences follow the writing guidelines and format dictated by the American Psychological Association (APA). In general, the structure follows: abstract (summary of the article), introduction or literature review, methods explaining how the study was conducted, results of the study, discussion and interpretation of findings, and references.
The aftermath of teenage suicide: a qualitative study of the psychosocial consequences for the supervising family
Per Lindqvist and his colleagues (2008), wanted to learn how the families of teenage suicide victims cope with their loss. They did not have a specific research question or hypothesis, such as, what percentage of family members join suicide support groups? Instead, they wanted to understand the variety of reactions that families had, with a focus on what it is like from their perspectives. To do this, they interviewed the families of 10 teenage suicide victims in their homes in rural Sweden. The interviews were relatively unstructured, beginning with a general request for the families to talk about the victim and ending with an invitation to talk about anything else that they wanted to tell the interviewer. One of the most important themes that emerged from these interviews was that even as life returned to "normal," the families continued to struggle with the question of why their loved one committed suicide. This struggle appeared to be especially difficult for families in which the suicide was most unexpected. This relationship can now be explored using quantitative research. But it is unclear whether this question would have arisen at all without the researchers sitting down with the families and listening to what they themselves wanted to say about their experience.


Licenses and Attributions