Learning Objectives
Explain theories of interest group formation.
Describe free riding and the reasons it occurs.
Analyze how interest groups provide a means for political participation.
Discuss recent changes to interest groups and the way they operate in the United States.
Explain why lower socioeconomic status citizens are not well represented by interest groups.
Identify the barriers to interest group participation in the United States.
Describe how interest groups influence the government through elections.
Explain how interest groups influence the government through the governance processes.
Interest Group Formation: Two Conflicting Theories
Over the past several decades, the United States witnessed a tremendous growth in the number of interest groups. Why did these particular groups arise? Some scholars argue that groups form due to an event in the political, economic, or social environment. This theory, Known as the disturbance theory, describes the origins of interest groups as a natural reaction to a "disturbance in society." That is, when the social, economic, or political environment is disturbed, a group or groups emerge in response to the disturbed conditions to press for policy change. David Truman stated that interest groups form primarily when there are changes in a social environment that upsets the well-being of some groups of people. The Theory states that interest groups form and grow in response to perceived threats, which has a direct cause and effect outcome on interest group formation.
For example, in 1962, Rachel 
Carson
 published 
Silent Spring
, a book exposing the dangers posed by pesticides such as DDT. The book served as a catalyst for individuals worried about the environment and the potential dangers of pesticides. The result was an increase in both the number of environmental interest groups, such as Greenpeace and American Rivers, and the number of members within them.
However, sometimes adverse situations impacting individuals have been on-going or even worsened without any interest group being formed. This suggests that the disturbance theory has some serious limits and is overly optimistic. That is, those with resources--either financial or organizational leadership skills--can more quickly respond to adverse events. For example, during most of the 20th century, California migrant farm workers were not well treated by farmers. Bad working conditions, poor wages, and discriminatory practices were not enough to encourage these workers to organize into a union despite repeated efforts by the AFL-CIO. Then, in the late 1960s, a charismatic farm worker named Cesar Chavez succeeded in unionizing the California grape pickers. The difference in the formation of the Untied Farm Workers was clearly not a single event, but resulted from the leadership of Chavez.
The leadership factor suggests that the origins of interest groups can very frequently be traced to the efforts of interest policy entrepreneurs. That is, energetic individuals who identify a problem and are convinced of a particular solution or approach to the problem who rallies supporters to the cause by forming a group to pursue the goals. In fact, political scientist Robert Salisbury states that leadership is the key reason why any group succeeds or dies.
Collective Action and Free Riding
In any group project in which you have participated, you may have noticed that a small number of students did the bulk of the work while others did very little. Yet everyone received the same grade. Why do some do all the work, while others do little or none? How is it possible to get people to work when there is a disincentive to do so? This situation is an example of a collective action problem, and it exists in government as well as in public and private organizations. Whether it is Congress trying to pass a budget or an interest group trying to motivate members to contact lawmakers, organizations must overcome collective action problems to be productive. This is especially true of interest groups, whose formation and survival depend on members doing the necessary work to keep the group funded and operating.
Collective action problems exist when people have a disincentive to take action. People tend not to act when the perceived benefit is insufficient to justify the costs associated with engaging in the action. Many citizens may have concerns about the appropriate level of taxation, gun control, or environmental protection, but these concerns are not necessarily strong enough for them to become politically active. In fact, most people take no action on most issues, either because they do not feel strongly enough or because their action will likely have little bearing on whether a given policy is adopted. Thus, there is a disincentive to call your member of Congress, because rarely will a single phone call sway a politician on an issue.
Why do some students elect to do little on a group project? The answer is that they likely prefer to do something else and realize they can receive the same grade as the rest of the group without contributing to the effort. This result is often termed the
free rider problem
, because some individuals can receive benefits (get a free ride) without helping to bear the cost. When National Public Radio (NPR) engages in a fund-raising effort to help maintain the station, many listeners will not contribute. Since it is unlikely that any one listener's donation will be decisive in whether NPR has adequate funding to continue to operate, most listeners will not contribute to the costs but instead will free ride and continue to receive the benefits of listening.
If free riding is so prevalent, why are there so many interest groups and why is interest group membership so high in the United States? One reason is that free riding can be overcome in a variety of ways. Olson argued, for instance, that some groups are better able than others to surmount collective action problems. They can sometimes maintain themselves by obtaining financial support from patrons outside the group.
Group leaders also play an important role in overcoming collective action problems. For instance, political scientist Robert Salisbury suggests that group leaders will offer incentives to induce activity among individuals. Some offer material incentives, which are tangible benefits of joining a group. AARP (American Association for Retired Persons), for example, offers discounts on hotel accommodations and insurance rates for its members, while dues are very low, so they can actually save money by joining. Group leaders may also offer solidarity incentives, which provide the benefit of joining with others who have the same concerns or are similar in other ways. Some scholars suggest that people are naturally drawn to others with similar concerns.
Groups with financial resources have an advantage in mobilizing in that they can offer incentives or hire a lobbyist. Smaller, well-organized groups also have an advantage. For one thing, opinions within smaller groups may be more similar, making it easier to reach consensus. It is also more difficult for members to free ride in a smaller group. In comparison, larger groups have a greater number of individuals and therefore more viewpoints to consider, making consensus more difficult. It may also be easier to free ride because it is less obvious in a large group when any single person does not contribute. However, if people do not lobby for their own interests, they may find that they are ignored, especially if smaller but more active groups with interests opposed to theirs lobby on behalf of themselves.
Sometimes collective action problems are overcome because there is little choice about whether to join an organization. For example, some organizations may require membership in order to participate in a profession. To practice law, individuals may be required to join the American Bar Association or a state bar association. In the past, union membership could be required of workers, particularly in urban areas controlled by political machines consisting of a combination of parties, elected representatives, and interest groups.
Interest Groups As Political Participation
Interest groups offer individuals an important avenue for political participation. Tea Party protests, for instance, gave individuals all over the country the opportunity to voice their opposition to government actions and control. Likewise, the Occupy Wall Street movement also gave a voice to those individuals frustrated with economic inequality and the influence of large corporations on the public sector. Individually, the protesters would likely have received little notice, but by joining with others, they drew substantial attention in the media and from lawmakers. While the Tea Party movement might not meet the definition of organized interest groups presented earlier, its aims have been promoted by established interest groups. Other opportunities for participation that interest groups offer or encourage include voting, campaigning, contacting lawmakers, and informing the public about causes.
Group Participation as Civic Engagement
Joining interest groups can help facilitate civic engagement, which allows people to feel more connected to the political and social community. Some interest groups develop as
grassroots movements
, which often begin from the bottom up among a small number of people at the local level. Interest groups can amplify the voices of such individuals through proper organization and allow them to participate in ways that would be less effective or even impossible alone or in small numbers. The Tea Party is also a grassroots movement. Many ordinary citizens support the Tea Party because of its opposition to tax increases, it attracts a great deal of support from elite and wealthy sponsors, some of whom are active in lobbying. The FreedomWorks political action committee (PAC), for example, is a conservative advocacy group that has supported the Tea Party movement. FreedomWorks is an offshoot of the interest group Citizens for a Sound Economy, which was founded by billionaire industrialists David H. and Charles G. Koch in 1984.
According to political scientists Jeffrey Berry and Clyde Wilcox, interest groups provide a means of representing people and serve as a link between them and government. Interest groups also allow people to actively work on an issue in an effort to influence public policy. Another function of interest groups is to help educate the public.
Interest groups also help frame issues, usually in a way that best benefits their cause. Abortion rights advocates often use the term "pro-choice" to frame abortion as an individual's private choice to be made free of government interference, while an anti-abortion group might use the term "pro-life" to frame its position as protecting the life of the unborn. "Pro-life" groups often label their opponents as "pro-abortion," rather than "pro-choice," a distinction that can affect the way the public perceives the issue.
Interest groups also try to get issues on the government agenda and to monitor a variety of government programs. Following the passage of the PPACA, numerous interest groups have been monitoring the implementation of the law, hoping to use successes and failures to justify their positions for and against the legislation. Those opposed have utilized the court system to try to alter or eliminate the law, or have lobbied executive agencies or departments that have a role in the law's implementation. Similarly, teachers' unions, parent-teacher organizations, and other education-related interests have monitored implementation of the
No Child Left Behind Act
promoted and signed into law by President George W. Bush.
Trends in Interest Group Formation and Activity
A number of changes in interest groups have taken place over the last three or four decades in the United States. The most significant change is the tremendous increase in both the number and type of groups. Political scientists often examine the diversity of registered groups, in part to determine how well they reflect the variety of interests in society. Some areas may be dominated by certain industries, while others may reflect a multitude of interests. Some interests appear to have increased at greater rates than others. For example, the number of institutions and corporate interests has increased both in Washington and in the states. Telecommunication companies like Verizon and AT&T will lobby Congress for laws beneficial to their businesses, but they also target the states because state legislatures make laws that can benefit or harm their activities. There has also been an increase in the number of interest groups that represent citizen-public issue organizations as opposed to economic interests. U.S. PIRG is a public interest group that represents the public on issues including public health, the environment, and consumer protection.
What are the reasons for the increase in the number of interest groups? In some cases, it simply reflects new interests in society. Forty years ago, stem cell research was not an issue on the government agenda, but as science and technology advanced, its techniques and possibilities became known to the media and the public, and a number of interests began lobbying for and against this type of research. Medical research firms and medical associations will lobby in favor of greater spending and increased research on stem cell research, while some religious organizations and anti-abortion groups will oppose it. As societal attitudes change and new issues develop, and as the public becomes aware of them, we can expect to see the rise of interests addressing them.
We have also seen increased specialization by some interests and even fragmentation of existing interests. While the American Medical Association may take a stand on stem cell research, the issue is not critical to the everyday activities of many of its members. On the other hand, stem cell research is highly salient to members of the American Neurological Association, an interest organization that represents academic neurologists and neuroscientists. Accordingly, different interests represent the more specialized needs of different specialties within the medical community, but
fragmentation
can occur when a large interest like this has diverging needs. Such was also the case when several unions split from the AFL-CIO (American Federation of Labor-Congress of Industrial Organizations), the nation's largest federation of unions, in 2005. Improved technology and the development of social media have made it easier for smaller groups to form and to attract and communicate with members. The use of the Internet to raise money has also made it possible for even small groups to receive funding.
Over the last few decades, we have also witnessed an increase in professionalization in lobbying and in the sophistication of lobbying techniques. This was not always the case, because lobbying was not considered a serious profession in the mid-twentieth century. Over the past three decades, there has been an increase in the number of contract lobbying firms. These firms are often effective because they bring significant resources to the table, their lobbyists are knowledgeable about the issues on which they lobby, and they may have existing relationships with lawmakers. In fact, relationships between lobbyists and legislators are often ongoing, and these are critical if lobbyists want access to lawmakers. However, not every interest can afford to hire high-priced contract lobbyists to represent it. A great deal of money is spent on lobbying activities.
We have also seen greater limits on inside lobbying activities. In the past, many lobbyists were described as "good ol' boys" who often provided gifts or other favors in exchange for political access or other considerations. Today, restrictions limit the types of gifts and benefits lobbyists can bestow on lawmakers. There are certainly fewer "good ol' boy" lobbyists, and many lobbyists are now full-time professionals. The regulation of lobbying is addressed in greater detail below.
How Representative Is the Interest Group System?
Participation in the United States has never been equal; wealth and education, components of socioeconomic status, are strong predictors of political engagement.
We already discussed how wealth can help overcome collective action problems, but lack of wealth also serves as a barrier to participation more generally. These types of barriers pose challenges, making it less likely for some groups than others to participate. Some institutions, including large corporations, are more likely to participate in the political process than others, simply because they have tremendous resources. And with these resources, they can write a check to a political campaign or hire a lobbyist to represent their organization. Writing a check and hiring a lobbyist are unlikely options for a disadvantaged group.
Individually, the poor may not have the same opportunities to join groups. They may work two jobs to make ends meet and lack the free time necessary to participate in politics. Further, there are often financial barriers to participation. For someone who punches a time-clock, spending time with political groups may be costly and paying dues may be a hardship. Certainly, the poor are unable to hire expensive lobbying firms to represent them. Minorities may also participate less often than the majority population, although when we control for wealth and education levels, we see fewer differences in participation rates. Still, there is a bias in participation and representation, and this bias extends to interest groups as well.
Finally, people do not often participate because they lack the political skill to do so or believe that it is impossible to influence government actions. They might also lack interest or could be apathetic. Participation usually requires some knowledge of the political system, the candidates, or the issues. Younger people in particular are often cynical about government's response to the needs of non-elites.
How do these observations translate into the way different interests are represented in the political system? Some pluralist scholars like David Truman suggest that people naturally join groups and that there will be a great deal of competition for access to decision-makers. Scholars who subscribe to this pluralist view assume this competition among diverse interests is good for democracy. Political theorist Robert Dahl argued that "all active and legitimate groups had the potential to make themselves heard."
Not all scholars accept the premise that all groups have the potential for access to decision-makers. The elite critique suggests that certain interests, typically businesses and the wealthy, are advantaged and that policies more often reflect their wishes than anyone else's.
While most scholars agree that some interests do have advantages, others have questioned the overwhelming dominance of certain interests. Additionally, neo-pluralist scholars argue that certainly some interests are in a privileged position, but these interests do not always get what they want. Instead, their influence depends on a number of factors in the political environment such as public opinion, political culture, competition for access, and the relevance of the issue. Even wealthy interests do not always win if their position is at odds with the wish of an attentive public. And if the public cares about the issue, politicians may be reluctant to defy their constituents. If a prominent manufacturing firm wants fewer regulations on environmental pollutants, and environmental protection is a salient issue to the public, the manufacturing firm may not win in every exchange, despite its resource advantage. We also know that when interests mobilize, opposing interests often counter-mobilize, which can reduce advantages of some interests. Thus, the conclusion that businesses, the wealthy, and elites win in every situation is overstated.
The graph below shows contributions by interests from a variety of different sectors. We can draw a few notable observations from the table. First, large sums of money are spent by different interests. Second, many of these interests are business sectors, including the real estate sector, the insurance industry, businesses, and law firms.
Interest group politics are often characterized by whether the groups have access to decision-makers and can participate in the policy-making process. The
iron triangle
is a hypothetical arrangement among three elements (the corners of the triangle) that illustrates the often real relationships in government: an interest group, a congressional committee member or chair, and an agency within the bureaucracy.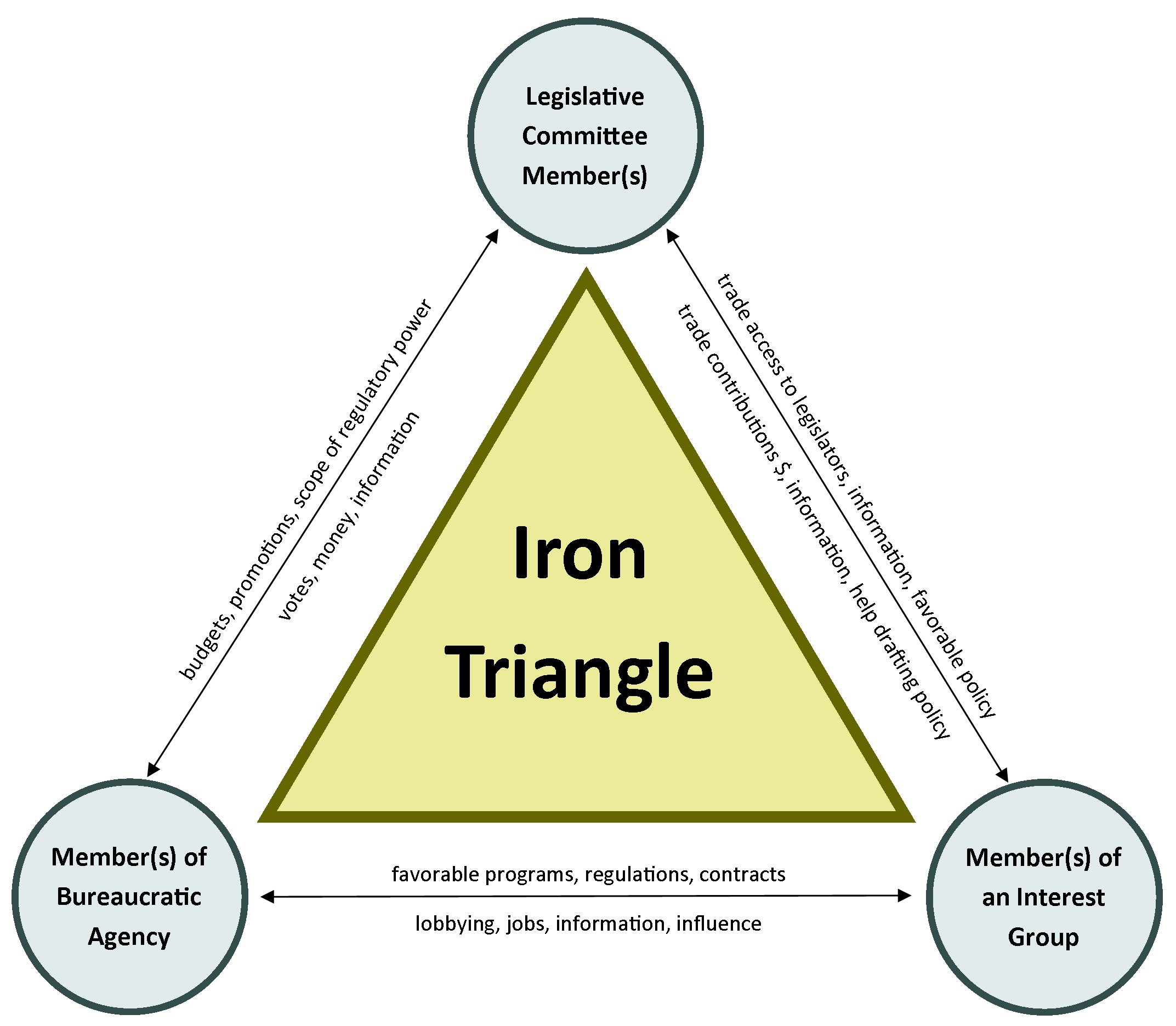 Each element has a symbiotic relationship with the other two, and it is difficult for those outside the triangle to break into it. The congressional committee members, including the chair, rely on the interest group for campaign contributions and policy information, while the interest group needs the committee to consider laws favorable to its view. The interest group and the committee need the agency to implement the law, while the agency needs the interest group for information and the committee for funding and autonomy in implementing the law.
Influence depends on a number of factors in the political environment such as public opinion, political culture, competition for access, and the relevance of the issue. Even wealthy interests do not always win if their position is at odds with the wish of an attentive public. And if the public cares about the issue, politicians may be reluctant to defy their constituents. Thus, the conclusion that businesses, the wealthy, and elites win in every situation is overstated.
Many people criticize the huge amounts of money spent in politics. Some argue that interest groups have too much influence on who wins elections, while others suggest influence is also problematic when interests try to sway politicians in office. There is little doubt that interest groups often try to achieve their objectives by influencing elections and politicians, but discovering whether they have succeeded in changing minds is actually challenging because they tend to support those who already agree with them.
Influence in Elections
Interest groups support candidates who are sympathetic to their views in hopes of gaining access to them once they are in office. For example, an organization like the NRA will back candidates who support Second Amendment rights. Both the NRA and the Brady Campaign to Prevent Gun Violence (an interest group that favors background checks for firearm purchases) have grading systems that evaluate candidates and states based on their records of supporting these organizations.
To garner the support of the NRA, candidates must receive an A+ rating for the group. In much the same way, Americans for Democratic Action, a liberal interest group, and the American Conservative Union, a conservative interest group, both rate politicians based on their voting records on issues these organizations view as important. These ratings, and those of many other groups, are useful for interests and the public in deciding which candidates to support and which to oppose. Incumbents have electoral advantages in terms of name recognition, experience, and fundraising abilities, and they often receive support because interest groups want access to the candidate who is likely to win. Some interest groups will offer support to the challenger, particularly if the challenger better aligns with the interest's views or the incumbent is vulnerable. Sometimes, interest groups even hedge their bets and give to both major party candidates for a particular office in the hopes of having access regardless of who wins.
Some interests groups form
political action committees
(PACs), groups that collect funds from donors and distribute them to candidates who support their issues. As the chart below makes apparent, many large corporations like Honeywell International, AT&T, and Lockheed Martin form PACs to distribute money to candidates. Other PACs are either politically or ideologically oriented. For example, the MoveOn.org PAC is a progressive group that formed following the impeachment trial of President Bill Clinton, whereas GOPAC is a Republican PAC that promotes state and local candidates of that party. PACs are limited in the amount of money that they can contribute to individual candidates or to national party organizations; they can contribute no more than $5,000 per candidate per election and no more than $15,000 a year to a national political party. Individual contributions to PACs are also limited to $5,000 a year.
PACs through which corporations and unions can spend virtually unlimited amounts of money on behalf of political candidates are called super PACs. As a result of a 2010 Supreme Court decision,
Citizens United v. Federal Election Commission
, there is no limit to how much money unions or corporations can donate to super PACs. Unlike PACs, however, super PACs cannot contribute money directly to individual candidates. If the 2014 elections were any indication, super PACs will continue to spend large sums of money in an attempt to influence future election results.
Influencing Governmental Policy
Interest groups support candidates in order to have access to lawmakers once they are in office. Lawmakers, for their part, lack the time and resources to pursue every issue; they are policy generalists. Therefore, they (and their staff members) rely on interest groups and lobbyists to provide them with information about the technical details of policy proposals, as well as about fellow lawmakers' stands and constituents' perceptions. These
voting cues
give lawmakers an indication of how to vote on issues, particularly those with which they are unfamiliar. But lawmakers also rely on lobbyists for information about ideas they can champion and that will benefit them when they run for reelection.
Interest groups likely cannot target all 535 lawmakers in both the House and the Senate, nor would they wish to do so. There is little reason for the Brady Campaign to Prevent Gun Violence to lobby members of Congress who vehemently oppose any restrictions on gun access. Instead, the organization will often contact lawmakers who are amenable to some restrictions on access to firearms. Thus, interest groups first target lawmakers they think will consider introducing or sponsoring legislation.
Second, they target members of relevant committees. If a company that makes weapons systems wants to influence a defense bill, it will lobby members of the Armed Services Committees in the House and the Senate or the House and Senate appropriations committees if the bill requires new funding. Many members of these committees represent congressional districts with military bases, so they often sponsor or champion bills that allow them to promote policies popular with their districts or state. Interest groups attempt to use this to their advantage. But they also conduct strategic targeting because legislatures function by respectfully considering fellow lawmakers' positions. Since lawmakers cannot possess expertise on every issue, they defer to their trusted colleagues on issues with which they are unfamiliar. So targeting committee members also allows the lobbyist to inform other lawmakers indirectly.
Third, interest groups target lawmakers when legislation is on the floor of the House and/or Senate, but again, they rely on the fact that many members will defer to their colleagues who are more familiar with a given issue. Finally, since legislation must past both chambers in identical form, interest groups may target members of the conference committees whose job it is to iron out differences across the chambers. At this negotiation stage, a 1 percent difference in, say, the corporate income tax rate could mean millions of dollars in increased or decreased revenue or taxation for various interests.
Interest groups also target the budgetary process in order to maximize benefits to their group. In some cases, their aim is to influence the portion of the budget allocated to a given policy, program, or policy area. For example, interests for groups that represent the poor may lobby for additional appropriations for various welfare programs; those interests opposed to government assistance to the poor may lobby for reduced funding to certain programs. It is likely that the legislative liaison for your university or college spends time trying to advocate for budgetary allocations in your state.
Once legislation has been passed, interest groups may target the executive branch of government, whose job is to implement the law. The U.S. Department of Veterans Affairs has some leeway in providing care for military veterans, and interests representing veterans' needs may pressure this department to address their concerns or issues. Other entities within the executive branch, like the Securities and Exchange Commission, which maintains and regulates financial markets, are not designed to be responsive to the interests they regulate, because to make such a response would be a conflict of interest. Interest groups may lobby the executive branch on executive, judicial, and other appointments that require Senate confirmation. As a result, interest group members may be appointed to positions in which they can influence proposed regulation of the industry of which they are a part.
In addition to lobbying the legislative and executive branches of government, many interest groups also lobby the judicial branch. Lobbying the judiciary takes two forms, the first of which was mentioned above. This is lobbying the executive branch about judicial appointments the president makes and lobbying the Senate to confirm these appointments. The second form of lobbying consists of filing amicus briefs, which are also known as "friend of the court" briefs. These documents present legal arguments stating why a given court should take a case and/or why a court should rule a certain way. In
Obergefell v. Hodges
(2015), the Supreme Court case that legalized same-sex marriage nationwide, numerous interest groups filed amicus curiae briefs.
For example, the Human Rights Campaign filed a brief arguing that the Fourteenth Amendment's due process and equal protection clauses required that same-sex couples be afforded the same rights to marry as opposite-sex couples. In a 5–4 decision, the U.S. Supreme Court agreed.
Measuring the effect of interest groups' influence is somewhat difficult because lobbyists support lawmakers who would likely have supported them in the first place.

Examine websites for the American Conservative Union and
Americans for Democratic Action
that compile legislative ratings and voting records. On what issues do these organizations choose to take positions? Where do your representatives and senators rank according to these groups? Are these rankings surprising?
Questions to Consider
What are some ways to overcome collective action problems?



Show Answer




Why do some groups have an easier time overcoming collective action problems?



Show Answer




What does group participation provide to citizens?



Show Answer




Why don't lower-income groups participate more in the interest group system?



Show Answer




What are some barriers to participation?



Show Answer




How do interest groups lobby the judicial branch?



Show Answer




How do interest groups and their lobbyists decide which lawmakers to lobby? And where do they do so?



Show Answer




Terms to Remember
fragmentation--the result when a large interest group develops diverging needs

free rider problem--the situation that occurs when some individuals receive benefits (get a free ride) without helping to bear the cost

grassroots movement--a political movement that often begins from the bottom up, inspired by average citizens concerned about a given issue

iron triangle--three-way relationship among congressional committees, interests groups, and the bureaucracy

voting cues--sources—including fellow lawmakers, constituents, and interest groups—that lawmakers often use to help them decide how to vote, especially on unfamiliar issues


Licenses and Attributions