Earth's Shape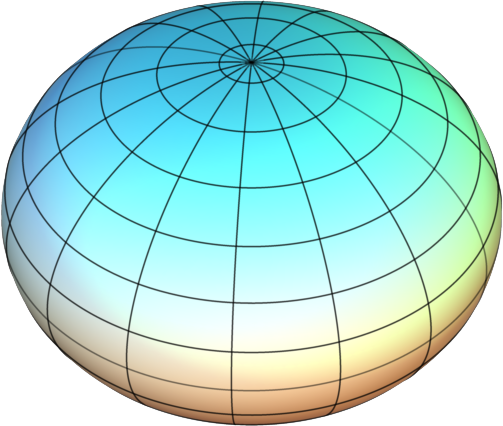 Earth is an inner planet in the solar system and it is very much like the other inner planets, at least in its size, shape, and composition. But many features make Earth very different from the planets and any other planet that we know of so far.Earth is a sphere or, more correctly, an
oblate spheroid
, which is a sphere that is a bit squished down at the poles and bulges a bit at the equator. Or to be more technical, the minor axis (the diameter through the poles) is smaller than the major axis (the diameter through the equator). When the earth is cut in equal halves, each half is called a
hemisphere
. North of the equator is the northern hemisphere and south of the equator is the southern hemisphere. Eastern and western hemispheres are also designated.
What evidence is there that Earth is spherical? What evidence was there before spaceships and satellites? Try to design an experiment involving a ship and the ocean to show Earth is round. If you are standing on the shore and a ship is going out to sea, the ship gets smaller as it moves further away from you but the ship's bottom also starts to disappear as the vessel goes around the arc of the planet. There are many other ways that early scientists and mariners knew that Earth was not flat.
Even the ancient Greeks knew that Earth was round by observing the arc shape of the shadow on the Moon during a lunar eclipse. The Sun and the other planets of the solar system are also spherical. Larger satellites, those that have enough mass for their gravitational attraction to have made them round, are as well.
Earth has a 
magnetic field
 that behaves as if the planet had a gigantic bar magnet inside of it. Earth's magnetic field also has a north and south pole and a magnetic field that surrounds it. The magnetic field arises from the convection of molten iron and nickel metal in Earth's outer liquid iron core. Earth's magnetic field extends several thousand kilometers into space. The magnetic field shields the planet from harmful radiation from the Sun.
Licenses and Attributions