Learning Objective
Recognize the role of sp2 hybridized atoms in sigma and pi bonding.
---
Key Points
For boron to bond with three fluoride atoms in boron trifluoride (BF3), the atomic s- and p-orbitals in boron's outer shell mix to form three equivalent sp2 hybrid orbitals.
In an ethene molecule, a double bond between carbons forms with one sigma and one pi bond.
The sigma bond in the C=C for ethene forms between two sp2 hybrid orbitals of two carbon atoms, and a pi bond for between two p orbitals.




---
Terms
sp2 hybridizationthe 2s orbital mixes with only two of the three available 2p orbitals
hybridizationmixing atomic orbitals into new hybrid orbitals, suitable for pairing electrons to form chemical bonds in valence bond theory
---
Boron trifluoride (BF
3
) has a boron atom with three outer-shell electrons in its normal or ground state, as well as three fluorine atoms, each with seven outer electrons. One of the three boron electrons is unpaired in the ground state. In order to explain the bonding, the 2s orbital and two of the 2p orbitals (called sp
2
hybrids) hybridize; one empty p-orbital remains.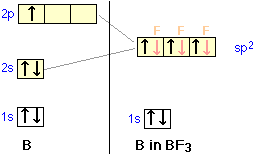 sp2Hybridization in Ethene and the Formation of a Double Bond
Ethene (C
2
H
4
) has a double bond between the carbons. In this case, carbon will sp
2
hybridize; in sp
2
hybridization, the 2s orbital mixes with only two of the three available 2p orbitals, forming a total of three sp hybrid orbitals with one p-orbital remaining. The three hybridized orbitals explain the three sigma bonds that each carbon forms.
The two carbon atoms form a sigma bond in the molecule by overlapping two sp
2
orbitals. Each carbon atom forms two covalent bonds with hydrogen by s–sp
2
overlap, all with 120° angles. The pi bond between the carbon atoms perpendicular to the molecular plane is formed by 2p–2p overlap.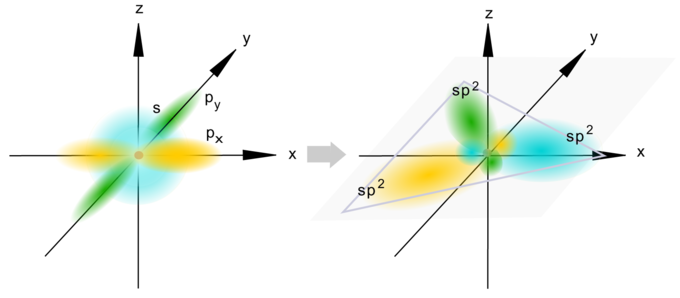 Show Sources
Licenses and Attributions