Reader-response criticism
is a school of literary theory that focuses on the reader (or "audience") and their experience of a literary work, in contrast to other schools and theories that focus attention primarily on the author or the content and form of the work.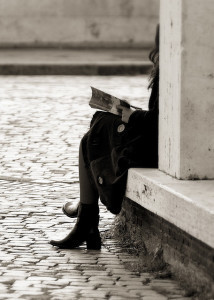 Although literary theory has long paid some attention to the reader's role in creating the meaning and experience of a literary work, modern reader-response criticism began in the 1960s and '70s, particularly in the US and Germany, in work by Norman Holland, Stanley Fish, Wolfgang Iser, Hans-Robert Jauss, Roland Barthes, and others.
Reader-response theory recognizes the reader as an active agent who imparts "real existence" to the work and completes its meaning through interpretation. Reader-response criticism argues that literature should be viewed as a performing art in which each reader creates their own, possibly unique, text-related performance. It stands in total opposition to the theories of formalism and the New Criticism.
Licenses and Attributions