The early years: Le Roncole, Busseto and Milan
The baptismal register, prepared on 11 October, lists his parents Carlo and Luigia as "innkeeper" and "spinner" respectively. Additionally, it lists Verdi as being "born yesterday", but since days were often considered to begin at sunset, this could have meant either 9 or 10 October. Today, his birthday is celebrated on 10 October, as certainly was the case of the bi-centennial in 2013. The next day, he was baptized in the Roman Catholic Church in Latin as
Joseph Fortuninus Franciscus
. The day after that (Tuesday), Verdi's father took his newborn the three miles to Busseto, where the baby was recorded as
Joseph Fortunin François
, the clerk writing in French. As biographer George Martin notes, so it happened, that for the civil and temporal world, Verdi was born a Frenchman."
When Verdi was almost three, his parents had a baby girl, Giuseppa. However she died in 1833. From the age of four, Verdi was given private lessons in Latin and Italian by the village schoolmaster, Baistrocchi, and at 6 he attended the local school. At the same time, it appears that he began to learn to play the organ, becoming more and more attracted to music that his parents finally provided him with a spinet. As one of the composer's significant biographers, Mary Jane Phillips-Matz notes, "Verdi's gift for music was apparent by then, even by 1820 or 1821.
This period also began his association with the local church, serving in the choir, being an altar boy for a while, and taken organ lessons. After schoolmaster Baistrocchi's death, Verdi became the official paid organist at the age of eight.
1820 to 1832: Musical education in Busseto
In 1823, when he was 10, Verdi's parents arranged for the boy to attend school in Busseto, enrolling him in a Ginnasio, an upper school for boys run by Don Pietro Seletti. He was looked after by Pietro Michiara and his musical family while the parents remained in charge of the inn at Le Roncole. However, Verdi returned regularly to play the organ on Sundays, walking the several kilometres.
 In Busseto, the future composer's education was greatly facilitated by visits to the large town library with its 10,000 volumes. At age 11 he began to be trained in Italian, Latin, the humanities and in rhetoric. By the time he was 12, Verdi began lessons with Ferdinando Provesi,
maestro di cappella
at San Bartolomeo, director of the municipal music school and co-director of the local Società Filarmonica (Philharmonic Society). It was with Provesi that Verdi was given his first lessons in composition and, beginning a year or two later, he was to write that "From the ages of 13 to 18 I wrote a motley assortment of pieces: marches for band by the hundred, perhaps as many little
sinfonie
that were used in church, in the theatre and at concerts, five or six concertos and sets of variations for pianoforte, which I played myself at concerts, many serenades, cantatas (arias, duets, very many trios) and various pieces of church music, of which I remember only a
Stabat Mater
".
The other director of the Philharmonic Society was Antonio Barezzi (
it
), a 29-year-old wholesale grocer and distiller, who was described by a contemporary as a "manic dilettante" when it came to music [and who], as Phillips-Matz notes, "had mastered several instruments, among them the flute, clarinet, and ophicleide" A regular member of the Philharmonic orchestra, Barezzi invited members to the spacious salon of his townhouse where they held rehearsals and performances. During those years, the Busseto Philharmonic was composed of 38 musicians, a considerable number of whom had been playing for over 15 years. They could also draw upon four tenors, two basses, a soprano or two, plus a full chorus.
The young Verdi did not immediately become involved with the Philharmonic, so arduous were his other duties and the broad range of his studies. This resulted in some conflicts with his two principal teachers—Provesi for music and the priest Seletti at the Ginassio where he focused on academic studies, but by June 1827, he had completed the academic work, graduating with honours. After that time, he was able to focus solely on music under Provesi until June 1829. Fortuitously, when Verdi was 13, he was asked to step in as a replacement to play in what became his first public event in the town; he was an immediate success largely playing his own music to the surprise of many and it gave him immediate recognition in his home town.
By 1829/30, Verdi had established himself as a major force in the Philharmonic: "no one of us could rival him" reported the Secretary of the organisation, Giuseppe Demaldė who was Barezzi's first cousin.  His account of those times,
Ceni biografici del Maestro Verdi
appears in Phillips-Matz's biography.
Additionally, these years saw Verdi develop a lifelong interest in the writings of William Shakespeare (several of whose works he made into operas from 1847 forward); of Alessandro Manzoni whose
I promesi sposi
—a major work of Italian fiction—had a significant impact on the 16-year-old Verdi when he read it; and, thirdly, of the dramatist Vittorio Alfieri.
It was Alfieri's drama,
Saul
, which Verdi used as the basis of an eight-movement cantata called
I deliri di Saul
written at age 15 and performed in Bergamo to great acclaim, Demaldè noting: "The composition is a real jewel, a precious stone.." and Barezzi stating that it was "the first work of some significance...in which he shows a vivid imagination, a philosophical outlook, and sound judgment in the arrangement of instrumental parts".
The young man's increasingly close connection to the Barezzi family household had one other consequence. Born a few months before Verdi, the Barezzi's eldest daughter, Margherita, was becoming an accomplished singer and her father was beginning to look for opportunities for her to study in Milan. Verdi had been giving singing and piano lessons to Margherita and they spent time together playing and talking about music. But by 1830, Margherita's mother discovered that the young couple were in love. That further determined Antonio to have his daughter move away.
At the same time, Carlo Verdi, whose family business was in deep trouble, was exploring possibilities for his son to study music, and he made an application for funding to the Monte di Pietà e d'Abbondanza in Busseto, backed by strong references from Provesi and others. Verdi was invited to stay in the Barezzi household and settled in, continuing to help the Philharmonic with copying scores and all manner of related chores while all awaited news of the Pietà scholarship.
1832 to 1834: Musical education in Milan
In Milan, where he stayed at the home of his former teacher, Seletti, he applied to study at the Conservatory, but after waiting for several days, he was rejected on several grounds. The Conservatory's reasoning was based on his limited piano technique (considered to be crucial by one teacher), his not being a resident of the Lombardy/Venetia region, and that he was older than the normal age to begin study there. Seletti wrote to Barezzi with the news and urging him to come to Milan, but Barezzi made arrangements for the young man to become a private pupil of Vincenzo Lavigna, paid for by him. Lavigna had been
maestro concertatore
at La Scala and he gave lessons in counterpoint along with a broader range of musical studies, with Verdi's classes beginning in July and his teacher describing his compositions as "very promising." Verdi began attending operatic performances and concerts.
A year passed before the young man returned briefly to Busetto. News came of Provesi's death and Verdi's attitude towards his studies seemed to change as he enjoyed city life. He frequently attended La Scala and, for example during the 1834-35 season, he would have been able to see Giuditta Pasta as Norma and Maria Malibran in Rossini's
Otello
and
La sonnambula
among others, as well as works by Luigi Ricci, Gaetano Donizetti, and Saverio Mercadante.
Also, it was during this period that he attended the
Salotto Maffei
, Countess Clara Maffei's salons in Milan. Verdi became a lifelong friend and correspondent.
An Autobiographical Sketch
written at Sant'Agata, these connections included an introduction by Lavigna to an amateur choral group, the Società Filarmonica, led by Pietro Massini, a man whom he described as: "if not very learned, was at least tenacious and patient: therefore just what was needed for a society of amateurs. They were organizing at the Teatro Filodrammatico the performance of an oratorio by Haydn,
The Creation
, [and] my teacher Lavigna asked me if, for my instruction, I wanted to follow the rehearsals, and I accepted with pleasure."
Attending the Società frequently in 1834, Verdi soon found himself functioning as rehearsal director and continuo player for
The Creation
when, in the absence of all three rehearsal conductors, Massini asked Verdi to accompany a rehearsal, which he did with success. Verdi goes on to explain how Massini "proposed that I write an opera for the Teatro Filodrammatico....He sent me a libretto, which after being revised by Solera, became
Oberto, Conte di Bonifacio
".
Returning briefly to Milan from Busseto in 1836, he conducted Rossini's
La cenerentola
 but many steps needed to be taken before
Oberto
became a reality on the opera stage. In his 1879 "Sketch", Verdi supplied the anecdotes of how his first opera came about, but before that could begin to happen, he returned to Busseto for two-and-a-half years.
1834 to 1839: Return to Busetto
maestro di musica
and taught, gave lessons, and conducted the Philharmonic for several months before returning to Milan in early 1835,
supported once more by Barezzi who lodged him in an apartment with another of his protégés, Luigi Martelli who Verdi was expected to teach, as he was expected to continue to take lessons from Lavigna in order to be formally qualified to take up a teaching post. By July 1835 he obtained his certification from Lavigna who stated that "I therefore believe him to be ready to practice his profession at the level of
maestro di cappella
.
But he took advantage of the connection he had made to Pietro Massini, informing him in a series of letters from 1835 to 1837 about the progress towards writing his first opera using the libretto which had been supplied by Massini. It was based on a work by Antonio Piazza, a Milanese "journalist and man of letters".
By then it had been given the title of
Rocester
and the young composer expressed hopes of a production at the Teatro Ducale in Parma with professional singers. Only when he encountered difficulties with that idea—the company not appearing to be interested in a new work by an unknown composer— did he revert to Massini in Milan. In subsequent letters, he continues to ask for Massini's assistance to stage the opera in Milan.
Beginnings as an opera composer
1839 to 1840: Return to Milan; first opera, Oberto
Oberto
(17 November 1839). Whether
Rocester
actually became the basis for
Oberto
, when Verdi and Margherita returned to Milan in February 1839 after fulfilling two and a half years of his contract in Busseto, is subject to some disagreement among scholars. How much of
Rocester
remained visible in
Oberto
 is discussed by Roger Parker, who does suggest that "in this shape-shifting tendency, the opera was, of course, very much of its time."
Oberto
in November 1839 which was given a respectable 13 additional performances. After its success, Merelli offered Verdi a contract for three more works.
Un giorno di regno
(5 September 1840). It was while he was working on his second opera, that Margherita died of encephalitis at age 26. Verdi adored his wife and children and was devastated by their deaths, especially as the opera, a comedy, was given only a few months after his wife's death.
Un giorno
was a flop and only given the one performance. Verdi acknowledged that the failure was partly due to his own personal circumstances during the period leading up to and during its composition. A contributing factor was that the only singers the La Scala impresario had available were those assembled for an
opera seria
, Otto Nicolai's
Il templario
, and they had no experience with comedy: "The cast had been assembled chiefly for the performance of the season's most successful novelty,
Il templario
, Nicolai's version of Ivanhoe", notes Verdi scholar Julian Budden. Other factors which have been mentioned include the size of the La Scala house (noted by biographer George Martin as "too big for the piece") plus the rather old-fashioned nature of the work itself, which was written in a style that was rapidly going out of fashion.
September 1840 to Autumn 1841: Verdi's year of despair, then Nabucco
Nabucco
(9 March 1842). After the failure of
Giorno
, Verdi vowed never to compose again, but in "An Autobiographical Sketch" written in 1879, he tells the story of how he came to be twice persuaded by Merelli to write a new opera. However, the distance of 38 years may have led to a somewhat romanticized view (or, as Julian Budden puts it: "he was concerned to weave a protective legend about himself [since] it was all part of his fierce independence of spirit".)
 But writing ten years closer to the time of event, Michele Lessona gives a very different version of the events after having been told the story by Verdi himself.
Composer Otto Nicolai had rejected a libretto called
Nabucodonosor
by Temistocle Solera which had been offered to him by Merelli.
 The impresario then gave a copy to Verdi in the hope that he could interest the young composer in writing again. Verdi described how he took it home and threw "it on the table with an almost violent gesture. ... In falling, it had opened of itself; without my realising it, my eyes clung to the open page and to one special line: 'Va pensiero, sull' ali dorate'".
 Supposedly, Verdi continued to read it and he read and re-read the libretto three times, but others have stated that he read the libretto very reluctantly or, as recounted by Lessona, that he "threw the libretto in a corner without looking at it anymore, and for the next five months he carried on with his reading of bad novels...[when] towards the end of May he found himself with that blessed play in his hands: he read the last scene over again, the one with the death of Abigaille (which was later cut), seated himself almost mechanically at the piano ... and set the scene to music."
 According to Verdi's account, he still refused to compose any music and took the manuscript back to the impresario the next day. Accepting no refusal, Merelli immediately stuffed the papers back into Verdi's pocket and—as Verdi recounts—"not only threw me out of his office, but slammed the door in my face and locked himself in."
Nabucodonosor
but which eventually, in 1844, both the title and name of the main character became
Nabucco
.
First performed on 9 March 1842,
Nabucodonosor'
s "public success in Milan was unprecedented", dominating Donizetti's and Giovanni Pacini's operas playing nearby. While the public went mad with enthusiasm, the critics tempered their approval of the opera. Otto Nicolai, who had rejected the libretto, was enraged, but his opinions were in the minority.
Nabucco
assured Verdi's success until his retirement from the theatre, twenty-nine operas (including some revised and updated versions) later.
The "Galley Years" begin: Nabucco to La battaglia di Legnano
Un ballo in maschera
. Verdi described this period of his working life in the following way in a letter to Countess Clara Maffei in 1858:
From Nabucco, you may say, I have never had one hour of peace. Sixteen years in the galleys.
However, musicologist Philip Gossett notes that, while this was the composer's only written use of the expression, he states that "[Verdi] laments the social circumstances in which Italian composers worked in the mid-nineteenth century, rather than judging aesthetic value.", a reference to the extraordinary output of operas written throughout Italy in the "primo ottocento" and staged under very short time-frames.
This period was not without its frustrations and setbacks for the young composer. Along with other similar expressions of his feelings over the years, Verdi wrote to Giuseppe Demaldè, Barezzi's cousin Busseto, in April 1845 regarding
I due Foscari
's reception, he stated:
I am happy, no matter what reception it gets, and I am utterly indifferent to everything. I cannot wait for these next three years to pass. I have to write six operas, then addio to everything.
Other letters around that same time stated that his was a career he abhorred.
Musicologists and Verdi biographers typically divide the 54 years during which Verdi composed his operas into three periods: "Early", "Middle", and "Late". The fourteen operas written in the "Early" years began with
Oberto
, and include
I Lombardi
in 1843, continuing through
Ernani
in 1844,
Atilla
in 1846, as well as his first adaptation of a Shakespeare play,
Macbeth
in 1847. Invited to compose for the Paris Opéra in 1847,
I Lombardi
was revised and renamed
Jérusalem
, and due to a number of Parisian conventions which had to be honored (including extensive ballets), it became Verdi's first work in the French grand opera style. This early period is typically regarded as ending with
La battaglia di Legnano
in January 1849. Scholar Martin Chusid then defines the "Middle Period" as starting with
Luisa Miller
in December 1849
1842 to 1843: Verdi in Milan; new successes in Vienna, Parma and Venice
Nabucco
, Verdi settled himself in Milan where he became surrounded by writers and artists, many of whom attended the salons of Countess Maffei. From that group, the young composer was drawn to Opprandino Arrivabene and to Giulio Carcano, the latter became significant to Verdi because of his translations of Shakespeare's plays into Italian, copies of which he forwarded to the young composer and, by the 1870's, Carcano published twelve volumes of the playwright's work. Many others members of the Maffei salon became Verdi's life-long friends.
A revival of
Nabucco
followed in 1842 at La Scala where it received "a record run that still stands of fifty-seven performances",
and this led to a commission from Merelli for a new opera for the 1843 season. When it came to Verdi's fee, the impresario left that section of the contract blank, and it is known that the young composer consulted Giuseppina Strepponi as to what was appropriate. Her advice was not to charge any more than Bellini had received for his
Norma
, the sum being 8,000 Austrian lire, and this was acceptable to Merelli.
I Lombardi alla prima crociata
(11 February 1843). The new opera would be based on a libretto by Temistocle Solera, who had written both of Verdi's first two operas. It drew upon the epic novel of the same name by Tommaso Grossi, incorporating its patriotic themes. The two men worked together from mid-March to mid-June 1842 for the first performance to be given in February 1843.
Working with this librettist revealed a very early concern on the part of the young Verdi: he had firm notions of what he wanted dramatically and what he wanted from his librettist, to the point that Verdi locked Solera in his room in order to force him to write the poetry which the composer had in mind.
 With the libretto completed by July, Verdi then spent the summer composing in Busseto, returning to Milan by the autumn where, in regard to the patriotic subject matter, some opposition came not from the Austrians but from the Church, although, in the end, only minor alterations were needed following Verdi's refusal to make any changes.
 While the premiere performance was a very popular success (and it continued to be so after subsequent stagings everywhere), critical reactions were less enthusiastic. Inevitable comparisons were made with
Nabucco
. However, one writer noted: "If [
Nabucco
] created this young man's reputation,
I Lombardi
served to confirm it.".
I Lombardi
, in March 1843 Verdi set out for Vienna— to the city where Gaetano Donizetti was musical director—to oversee a production of
Nabucco
. The older composer, recognising Verdi's talent and that his own time as a successful composer was coming to an end, noted in a letter in January 1844 that "I am very, very happy to give way to people of talent like Verdi.....[Nothing] will prevent the good Verdi from soon reaching one of the most honourable positions in the cohort of composers."
From Vienna in April, Verdi began to travel to Parma by way of Milan and Busseto. In the company of singers at the Teatro Regio di Parma was Giuseppina Strepponi. She had been ill for most of the previous year and had not sung since her last Abigaille in Milan, but she was a triumph at the opening performance of
Nabucco
given on 17 April and for the twenty performances which followed, all of which starred Strepponi in good voice. For Verdi himself, the performances were a personal triumph in his home area and his father, Carlo, attended the first performance.
Nabucco
which received 32 performances. Strepponi dates the beginning of their relationship as beginning in 1843.
Nabucco
in Venice (with its twenty-five performances in the 1842—43 season), Verdi began negotiations with La Fenice impresario Count Alvise Mocenigo to stage
I Lombardi
in addition to writing a new opera for that house. Francesco Maria Piave was proposed as librettist. Before any subject was chosen, the composer stuck firmly to his terms, especially those involving his fee, and these proved to be acceptable. Many subjects were explored including
I due Foscari
, one which was rejected due to the continued presence of members of that noble family in Venice, but finally Victor Hugo's
Hernani
captured Verdi's imagination. Although relatively inexperienced as a librettist, Piave was accepted and work began on a draft which underwent many changes at the hands of the Venetian censors.
Ernani
(9 March 1844). Verdi arrived in Venice on 1 December 1843 and work began with Piave, but before that occurred, the 26 December production of
I Lombardi
was, in Verdi's words, "one of the truly classic fiascos".
 By late January, with a change of cast secured for the title role at Verdi's insistence and the score of
Ernani
ready for the copyists, Verdi heard that the La Fenice Secretary Giulielmo Brenna had reported that the copyists had described the work as being "a masterpiece". As it turned out, chaos surrounded the final preparations for staging the opera: pieces of scenery and some costumes were missing, and the soprano, Sophie Löwe, was dissatisfied with her role. However, in spite of some limited quality singing,
Ernani
was well received on 9 March 1844, although with not as much enthusiasm as that received for the composer's two previous operas at their premieres. But on a personal level, Verdi triumphed with much of Venetian society as well as young intellectuals, poets, and journalists hosting him.
In spite of the experience of Venice, Verdi's work was to become his most popular opera until it was superseded by
Il trovatore
after 1853.
1844 to 1846: Busseto and Milan; Commissions from Rome, Milan, Naples, and Venice
The beginning of Verdi's and Muzio's years together
Muzio was soon set up in a room opposite to where he lodged, and quickly the young man became indispensable to the composer, acting for him in a wide variety of ways in order to fulfill the contracts which already were in place for new operas in Rome, Milan, and Naples. At the same time, demands were coming in for productions of
Ernani
in many other cities and, during this period, a new opera for Venice was offered.
As Muzio observed the 31-year-old composer, he saw a man who was, in Phillips-Matz' words, "generous, open, courteous, and surrounded by Milanese gentlemen who revered him. At times he became angry, impatient, or nervous; he was often ill [with "bouts of rheumatism, laryngitis, and neuralgia" rarely free of pressure and always volatile"
and, at the same time, Muzio reported to Barezzi in April 1844, who had been an early supporter of that young man as well: "He, my Signor Maestro, has a breadth of spirit, of generosity, a wisdom, a heart that (to draw a comparison) one would have to set beside yours and say that they are the most generous hearts in the whole world."
Their relationship was to grow stronger and stronger, and Muzio remained a life-long friend, supporting the composer and his work in every way possible. Only two years after his first letter, in November 1846, when he was being invited to compete for the post of
maestro di musica
in Busetto, Muzio gave an account of his life with Verdi and why he could never leave him:
If you could see us, I seem more like a friend, rather than his pupil. We are always together at dinner, in the cafes, when we play cards...; all in all, he doesn't go anywhere without me at his side; in the house we have a big table and we both write there together, and so I always have his advice.
Verdi's relationships with his librettists
Each new opera revealed Verdi's different relationships with his librettists. There was a return to Piave for
I due Foscari
for Rome in November 1844, then Temistocle Solera again for
Giovanna d'Arco
for La Scala in February 1845, while in August of that year the opportunity came to work with the pre-eminent librettist from Naples, Salvatore Cammarano, on
Alzira
for the Teatro di San Carlo in Naples. Solera wrote most of
Attila
for La Fenice for March 1846, although this opera later involved Piave as well.
I due Foscari
(3 November 1944). After
Ernani
, Verdi had considered a large number of projects for the future and Lord Byron's play,
The Two Foscari
was one of them. Writing to Piave in Venice, he suggested
The Two Foscari
, noting "I like the plot and the outline is already there in Venice".
I due Foscari
and Verdi encouraged Piave to work on it, stressing that "it's a fine subject, delicate and full of pathos".
 As musicologist Roger Parker notes, it appears that Verdi was "concentrating on personal confrontations rather than grand scenic effects".
 When Piave submitted the libretto, once again, the composer sent a long series of letters proposing changes which revealed "the extent to which Verdi intervened in the making of the libretto, a good deal of the large-scale structure of the opera being dictated by his increasingly exigent theatrical instincts."With the music completed over the summer,
I due Foscari
was given its Rome premiere performance on 3 November 1844.
Giovanna d'Arco
(15 February 1845). With a libretto by Solera, this opera followed for La Scala in February 1845 and, while reasonably well received by audiences over its 17 performances, Verdi was unhappy with the way it had been staged and "with the deteriorating standards of Merelli's productions" overall.
In addition, due to Merelli's underhand negotiations to acquire the rights to the score from Ricordi, the composer vowed never again to deal with the impresario nor to set foot on the stage of La Scala.
 In fact, the Milan house would have to wait for 36 years to stage another premiere of Verdi's work, the revised version of
Simon Boccanegra
.
Alzira
(12 August 1845). Following on the success of
Ernani
at the Teatro San Carlo in Naples, Verdi was invited to write an opera for that house.
I Lombardi
and, more importantly, requiring a finished libretto from Cammarano in his possession four months before the production. A synopsis for
Alzira
arrived from Cammarano and Verdi appeared to adopt a somewhat passive attitude, impressed as he was at being able to work with this librettist
to whom he stated "It's not necessary for me to tell you to keep it short. You know the theatre better than I do." It is quite clear that what was to become Verdi's characteristic requirement for brevity appeared this early in his career.
However, while still in Milan, another decline in Verdi's health, "with stomach trouble, severe headaches, and rheumatism", kept him in bed and unable to compose for periods of time. This forced him to request a postponement until at least following August, with required medical certificates sent to back up the request. The San Carlo Intendant, Vincenzo Flaùto, attempted to persuade him to come anyway and received an annoyed reply from Verdi. However, he was well enough to spend the first twenty days of June composing, the trip beginning on 20 June, and he was well enough to oversee rehearsals when he arrived in the city.
In a letter of 30 July, he expressed optimism that the opera would be well received but notes that "if it were to fail, that wouldn't upset me unduly".
Attending a performance of
I due Foscari
at the San Carlo, Verdi received a very warm welcome both outside the house and from the audience, but after a reasonably successful first performance, the others did not fare well and considerable attacks on the work and on its composer were published, one journalist proclaiming "No human talent is capable of producing two or three grand operas a year".
 Later in his life Verdi was to refer to
Alzira
as
proprio brutta
("downright ugly") and he always regarded it as the worst of his operas.
Attila
(17 March 1846). Zacharias Werner's ultra-Romantic German play,
Attila, König der Hunnen, romantische Tragödie
, was probably
 A letter to Francesco Maria Piave (with whom he had worked on both
Ernani
and
I due Foscari
) had included the subject of Attila as opera number 10 on a list of nine other possible projects, and in that same letter, he encouraged Piave to read the play, which musicologist Julian Budden describes as having "sprung from the wilder shores of German literary romanticism [and which contains] all the Wagnerian apparatus - the Norns, Valhalla, the sword of Wodan [
sic
], the gods of light and the gods of darkness." He continues: "It is an extraordinary Teutonic farrago to have appealed to Verdi".
But, as this was to be the second opera Verdi would be writing for Venice, he appears to have changed his mind about working with Piave and convinced him to relinquish the project, seemingly preferring to work with Solera as he had done on both of the two early operas which employed the format of large choral tableaux. This was a feature which the librettist wished to re-use for this new opera, and, as Baldini speculates, in returning to Solera, Verdi was more comfortable working with a librettist who was more suited to "sketching epic sagas and historical-religious frescoes. "But, after writing two complete acts, Solera left the project altogether without informing anyone and followed his opera singer wife to Madrid, leaving only the draft sketch of the third act. Solera's approach to the project had been to emphasize an appeal to Italian, specifically Venetian, patriotism.
This obliged Verdi to returned to Piave for its completion, albeit done with Solera's blessing. But the differences between each librettist's version were so great that it caused a final rift between Verdi and Solera, the composer's ideas of musical theatre having moved far ahead of that of his older colleague.
Seeking Piave's help in completing the opera, the pair met in Padua in December 1845 to work on the third act, but once again, illness forced Verdi to limit his work load. He was unable to oversee rehearsals of
Giovanna d'Arco
that month and remained in bed over Christmas for three weeks, although by 21 January he was able to get up inspite of his doctors stating that he needed to rest for six months. A relapse followed, and it was not until 24 February that he announced that, if the opera was to be finished, it would appear on the programme for only the last three or four evenings of the season.
Attila
was first staged with limited success on its opening night but received a triumphal reception on the second and third nights.
1845: Verdi becomes a landowner
Upon his return to Busseto in April 1845, Verdi became a landowner by purchasing Il Pulgaro, 62 acres (23 hectares) of farmland with a farmhouse and outbuildings, near to where his parents lived. His parents began to live there from May 1844.
Later, on 6 October 1845, with a first payment of 10,000 lire, he bought the Palazzo Cavalli (originally known as the Palazzo Dordoni and now known as the Palazzo Orlandi) on the via Roma, Busseto's main street. Encountering some financial difficulties by the end of that year, Verdi asked his father for a loan and Carlo sold a field in Le Roncole for 1,000 lire which was used to pay for some of the outstanding debt on Il Pulgaro, but—by May 1846—he was able to pay off the remaining loan of 4,000 lire on the Palazzo Cavalli.
It was when Verdi made the trip from Paris to Milan after the "Five Days" of March 1848 that he also visited Busseto to see his parents and Barezzi and, on 8 May, entered into a contract to acquire land and houses at Sant'Agata (which later became known as as the Villa Verdi). As biographer George Martin observes:
Whatever the reason for the purchase of the farm, it was not a whim. His purchase contract was complicated; it involved not only an exchange of properties [the Il Pulgaro farmland] but also required Verdi to guarantee certain mortgages covering other lots in which he was not interested. But from the first he took a greater interest in the new property than he had in the old. The existing buildings on the new farm were in poor repair, and Verdi ordered them to be put in shape with some alterations and then hurried back to Milan.
Payments were made by Carlo Verdi from loans he made to Giuseppe, and his parents then moved into the Palazzo Cavalli in May 1849.
1846 to 1847: Milan, then Macbeth for Florence
Verdi's period of rest and recovery in Milan
The decline in Verdi's health which had occurred in Venice, an illness which had put him in real danger, caused him to return to Milan and arrange to postpone several future projects including those which he was beginning to plan for both London and Paris. His health was still a worry to many, especially after rumours of his death had appeared in a Leipzig journal, and some were reprinted in Italy. Verdi spent about six months in Milan, as well as escaping some of the summer heat by going to Recoaro known for its mineral springs and from where he returned in much better health to begin work on
Macbeth
in September 1846. As work progressed, Muzio reported to Barezzi that "Verdi was working very, very slowly, but was well".
However, with worries over the production as a whole, problems with Piave's libretto, and the need to replace his indisposed Lady Macbeth, in December Verdi became ill again, but he continued to work on solving the problems facing his upcoming opera and appears to have been well enough when he left for Florence along with Muzio in mid-February.
Macbeth
(14 March 1847). Influenced by his friendship in the 1840s with Andrea Maffei, a poet and man of letters who had suggested both Schiller's
Die Räuber
(
The Robbers
) and Shakespeare's play
Macbeth
as suitable subjects for operas, the composer received a commission from Florence's Teatro della Pergola with no particular opera specified.
 Starting work on
Macbeth
, he knew of the availability of the baritone Felice Varesi, whom he wanted for the title role, and, with Varesi under contract, Verdi could focus on the music for
Macbeth
.
Piave's text was based on a prose translation which had been published in Turin in 1838 and Verdi did not encounter Shakespeare's original work until after the first performance of the opera, although he had read Shakespeare in translation for many years. In a 1865 letter to Piave he notes: "He is one of my favorite poets. I have had him in my hands from my earliest youth" and Verdi continues to make it clear how important this subject was to him: "....This tragedy is one of the greatest creations of man... If we can't make something great out of it let us at least try to do something out of the ordinary".
But Verdi found that he needed to be constantly bullying Piave into correcting his drafts (so that Maffei had a hand in re-writing some scenes of the libretto, especially the witches' chorus in Act 3 and the sleepwalking scene), their version follows Shakespeare's play quite closely, although it employs the three witches in the form of a large female chorus of witches, singing in three-part harmony.
Macbeth
being performed, Verdi's
Attila
was given at the Pergola, rehearsed by Muzio. Many friends from Busseto arrived for the premiere as well as Strepponi who came from Paris.
Macbeth'
s success on 14 March was magnificent, with the composer called out many times during the evening. The following performances were equally well received. In homage to his former father-in-law and long-time supporter, Antonio Barezzi, about two weeks after the premiere when he had returned to Milan Verdi dedicated the opera to him:
| | | |
| --- | --- | --- |
| " | I have long intended to dedicate an opera to you, who have been father, benefactor, and friend to me. It was a duty I should have fulfilled sooner if imperious circumstances had not prevented me. Now, I send you Macbeth which I prize above all my other operas, and therefore deem worthier to present to you. | " |
Verdi in London and Paris, June 1847 to July 1849
Operas for London, Paris, and Trieste
I masnadieri
(22 July 1847). Verdi left Italy at the end of May 1847, accompanied by his long-time assistant and student Emanuele Muzio. He has completed his work except for the orchestration, which he left until the opera was in rehearsal, since he wanted to hear "la Lind and modify her role to suit her more exactly."
However, when the travelers reached Paris, rumours abounded that Lind would not be present and that she was not willing to learn new roles. Verdi then sent Muzio across the English Channel ahead of him, while he waited for an assurance that the soprano was in London. Muzio gave him that assurance, informing him that Lind was ready and eager. Verdi continued his journey and arrived in England on 5 June.
Verdi agreed to conduct the premiere on 22 July 1847 as well as the second performance. Queen Victoria and Prince Albert attended the first performance, together with every member of the British aristocracy and fashionable society that were able to gain admission. Overall, the premiere was a triumphant success for the composer, and for the most part, the press was generous in its praise. After Verdi's departure, it was given twice more before the end of the season.
Jérusalem
(26 November 1847). Within a week of returning to Paris on 27 July 1847, Verdi received his first commission from the
I Lombardi
to a new French libretto by Alphonse Royer and Gustave Vaëz who had written the libretto for Donizetti's most successful French opera,
La favorite
.
 The adaptation meant that Verdi could "try his hand at grand opera" without having to write something entirely new, a strategy which both Donizetti (with
Les Martyrs
in 1840) and Rossini (with
Le siège de Corinthe
in 1826) had employed for their Paris debuts.
 The French version of
I Lombardi
changed locations and characters to French ones, and made significant changes to the structure of the work.
Il corsaro
(25 October 1848). Verdi had contracted with the Milanese publisher, Francesco Lucca for three operas and, to satisfy the remaining commission, he proposed
Corsaro
, but he was offered a counter proposal which he rejected. From Paris in February 1848 Verdi sent the completed score to Lucca via Muzio, whom he had sent back to Milan to take care of business from there. Budden comments "In no other opera of his does Verdi appear to have taken so little interest
before
it was staged."
 Where and when it was to be staged, who the singers would be, and by which stage director was left to the publisher and the composer took no further part in its premiere production which was given only three performances at the Teatro Grande in Trieste.
Verdi's relationship with Giuseppina Strepponi
The Man Verdi
 and Baldini's
The Story of Giuseppe Verdi
, relates to Giuseppina Strepponi, the singer whom he first encountered at the time of composing
Nabucco
in 1842 and with whom he was involved professionally in revivals of that opera in the 1840s, which included those already noted in Parma in 1842, when he had remained in the city for some weeks beyond his intended departure date. As the couple had continued to see each other over the next year or so, Strepponi dates the beginning of their relationship to sometime in 1843.
As her voice declined and engagements dried up in the 1845 to 1846 period, she returned to live in Milan and was in contact with Verdi, continuing as his "supporter, promoter, unofficial adviser, and occasional secretary" until she made the decision to retire and move to Paris in October 1846 where she set up a singing school for young gentlewomen in November (and where it turned out to be a very successful one.) But, before she left for Paris, Verdi gave her a letter which contained a pledge of his love. On the envelope, Strepponi wrote "5 or 6 October 1846. They shall lay this letter on my heart when they bury me".
With the help of Verdi's friends, the Escudiers, who lived in Paris, Strepponi began to promote her business and also planned a concert of Verdi's music for June 1847, coming out of her stage retirement briefly for one last opera appearance at the Comédie-Italienne, although it was not well received. But after Verdi returned from London to Paris in July 1847, the couple began a serious romantic relationship.
To friends in Italy, Verdi wrote that he wanted to be "able to lead the life I wish" and that he "intended to stay a month in Paris, if I liked it",although he did not appear to be very enthusiastic about the prospect.
However, with the exception of a return to Italy after the 18 March 1848 bloody uprising in Milan against the Austrians (when the composer was away from early April to mid-May) and the period of overseeing the rehearsals of
La battaglia di Legnano
in Rome (from before Christmas 1848 to early February 1849 after its premiere on 27 January 1849), Verdi remained in Paris for over two years.
However, as the relationship with Strepponi proceeded, Verdi was known to be "living in an apartment around the corner from Strepponi's house", and that news had reached Italy ("Verdi had been seen
chez
Strepponi").  In writing the music for
Jérusalem
, he had received her help to the extent that a handwritten love duet in the composer's autograph score contains alternative lines in her handwriting and in his, something described by British music critic Andrew Porter as "one of the more romantic discoveries of recent years."
Baldini recounts that "at the end of 1847 Verdi rented a little house in Passy, and went to live there with Giuseppina", but Phillips-Matz does not go so far, noting only that "he may have moved into her apartment or a separate apartment in her building." However, later she does confirm the move to Passy, dating it to June 1848.
Also, at the end of 1847, Antonio Barezzi came to Paris and was entertained by Strepponi and Verdi, and in a letter from Busseto upon his return, he wrote glowingly of his time in that city.
But, at this time it appears that, ultimately, Verdi would return to Italy as "he seemed to have no intention of cutting himself off from his home and his people."
 He had intended to do so in early 1848, but work and illness prevented it, as most probably, did his increasing attachment to Strepponi. For her part, she seems to have intended to remain in France.
April 1848: Verdi and the Risorgimento
The "Cinque Giornate": Verdi hurries to Milan; then Busseto
There he found other returning emigres who were quickly caught up in celebrating the "triumph of popular passion over organised strength"
and who became involved in the political maneuverings. With all that, Phillips-Matz believes that Verdi's music had helped to feed the popular passion, with
Attila
standing out in particular.
However, musicologist Roger Parker feels that "during the entire time, there was virtually no mention of Verdi. The composer supposed to have inspired the masses to the barricades, the very artistic symbol of the Risorgimento, was somehow ignored in the press of events."
In Milan, Verdi discovered that Piave was now "Citizen Piave" of the newly-proclaimed Republic of San Marco. Writing to him in Venice, Verdi proclaimed:
Honor to these brave men! Honor to all Italy, which at this moment is truly great! Be assured, her hour of liberation has struck. It is the people that will it, and when the people will there is no absolute power that cart resist. They can do what they like, they can intrigue how they like, those that strive to impose themselves by brute force, but they will not succeed in defrauding the people of their rights. Yes, yes, a few more years, perhaps only a few more months, and Italy will be free, united and a republic. What else should she be?
He concluded the letter to Piave with "Banish every petty municipal idea! We must all extend a fraternal hand, and Italy will yet become the first nation of the world" and exclaims "I am drunk with with joy! Imagine that there are no more Germans here!!
However, as George Martin states:
In Milan the political maneuvering among patriots of various political persuasions grew more complicated and bitter even as the war seemed to go better. But for those with a clear eye and good ear, like Mazzini and the Contessa Maffei in Milan, the political situation was alarming. Above the noise of the military bands and cheering crowds there was only the sound of argument, bitter and destructive, among the leaders of the various parties, states and towns.
By the end of April, having spent time in Milan Verdi went on to Busseto to visit his parents and Barezzi. It was on 8 May that he acquired the house and land at Sant'Agata. By the middle of May he was back in Paris, gradually learning of the failure of attempts to secure a lasting hold on the Austrian lands following the
Giornate
. Muzio, who was forced to flee Venice, went first to Locarno and then gradually was able to make his way back towards Busseto after the Austrians re-took Milan on 5 August. He continued to be invaluable to Verdi.
January 1849: The "Early period" ends
La battaglia di Legnano
(27 January 1849). Opera historian Charles Osborne describes
La battaglia
as "an opera with a purpose" and maintains that "while parts of Verdi's earlier operas had frequently been taken up by the fighters of the Risorgimento [...] this time the composer had given the movement its own opera"
 After he had composed
Macbeth
in 1847, Verdi had been admonished by the poet Giuseppe Giusti for turning away from patriotic subjects, the poet pleading with him to "do what you can to nourish the [sorrow of the Italian people], to strengthen it, and direct it to its goal."
 Verdi replied encouragingly.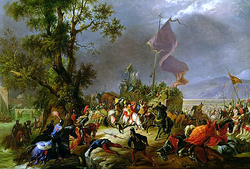 The Battle of Legnano by Massimo d'Azeglio 1831 Finally and although his other obligations were out of the way, he was hesitant in committing to anything that was not a genuinely patriotic subject. However, Salvadore Cammarano came up with the idea of adapting Joseph Méry's 1828 play
La Bataille de Toulouse
, a well-known and well-liked play in Italy at that time: "A story like that should stir every man with an Italian soul in his breast" was how the librettist described it.
"Conceived in the springtime of Italian hopes" (as Budden describes the initial enthusiasm for the work), by the time Cammarano produced a final libretto it was early 1849 and it was also clear that the Austrians had not been permanently routed from Lombardy. The premiere was set for late January 1849.
In order to prepare the opera for its staging, once again Verdi left Paris, travelling to Rome before the end of 1848 to find that city in turmoil. Pope Pius IX had fled to the south, and the city on the verge of becoming a republic, which occurred within days of
La battaglia'
s totally sold-out premiere at the Teatro Argentina. Along with additional events accelerating the passions inflamed among Rome's inhabitants was the opera's final chorus of freedom:
Italia risorge vestita di Gloria, invitta e regina qual'era sarà
/ "Italy rises again robed in glory!, Unconquered and a queen she shall be as once she was!".
July 1849: Verdi and Strepponi return to Italy
Verdi went directly to Busseto to continue work on completing his latest opera,
Luisa Miller
, for a production in Naples later in the year and Strepponi visited her family in Pavia and Florence from where, on 3 September, she wrote to Verdi to say that she would be leaving within a few days and that he should meet her in Parma and that he alone should then escort her to Busseto.
In Verdi's home town, they would live in the "Palazzo Dordoni" (as it was then known, albeit that Verdi had purchased it from Contardo Cavalli and referred to it in that way. Eventually it became the Palazzo Orlandi), the property in the centre of town which Verdi had acquired in October 1845.
1849 to 1859, Verdi's "Middle period": the "Galley Years" continue
The music of the "Middle Period"
 Apart from
Aroldo
in 1857 (the extensive revision of the poorly-received
Stiffelio
of 1850), which has "little chance for operatic immortality", all have entered the operatic repertory.
 They begin with
Luisa Miller
in late 1849, continue through
Stiffelio
in 1850 to the great operas of the 1850s such as
Rigoletto
,
Il trovatore
and
La traviata
.
Les vêpres siciliennes
was a new work written specifically for Paris in 1855 (but is now more widely know in its Italian translation). The first version of
Simon Boccanegra
of 1857 (now more widely performed in its revised version from 1881) as well as
Un ballo in maschera
of 1859 brings the period to a close. Chusid's rationale for choosing
Ballo
as the ending date of this period is that the composer did not write for an Italian house until 1887 because he was in a position to accept only those commissions on which he wanted to work and for which he had plentiful time to thoroughly research his subjects.
Musically, David Kimbell states that, as the period began, in
Luisa Miller
and
Stiffelio
there appears to be a "growing freedom in the large scale structure...and an acute attention to fine detail."
Others echo those feelings. In contrast, regarding the post-1859 period, Chusid notes Strepponi's description of the 1860s and 1870s operas as being "modern" whereas Verdi described the pre-1849 works as "the cavatina operas", meaning that "Verdi became increasingly dissatisfied with the older, familiar conventions of his predecessors that he had adopted at the outset of his career," reinforcing this view by noting that "most striking is Verdi's reduction in the number of cavatinas, limiting the number of choruses by 40 per cent when compared to be pre-1849 years (at the same time providing duets and other ensembles), and reducing the number of overtures in favour of shorter orchestral passages to introduce a scene.
Musicologist Julian Budden's conclusions about the impact made by
Rigoletto
and its place in Verdi's output during this period and beyond is summed up by his noting that:
Just after 1850 at the age of 38, Verdi closed the door on a period of Italian opera with Rigoletto. The so-called ottocento in music is finished. Verdi will continue to draw on certain of its forms for the next few operas, but in a totally new spirit.
July 1849 to May 1851: Verdi and Strepponi at the Palazzo Dordoni
Lusia Miller
for Naples for the following December, traveling there with Barezzi in October to oversee the production. Also, he was committed to Ricordi for an opera—which became
Stiffelio
—for Trieste in the Spring of 1850 and, when that was over, he was preparing an acceptable libretto with Piave, engaged in negotiations with La Fenice, and then writing the music for
Rigoletto
for Venice for March 1851. Additionally, he began work on
Il trovatore
but which had to be postponed for many months while he became preoccupied with family matters.
These matters included Verdi's concern over the reaction of many of the people of Busseto towards Giuseppina, a woman of the theatre living openly with the composer in an unmarried state. As such, she was shunned in the town and at church, and while Verdi could "treat the Bussetani with contempt...Giuseppina, in the next few years, suffered greatly."
During this whole period "Verdi and Strepponi were wretchedly unhappy, offended by the neighbors' prying [and] they developed a siege mentality", notes Phillips-Matz
who continues by describing the situation of a woman of Giuseppina's theatrical background and with her accumulated illegitimate children as not being a prospect for marriage for anyone, "her conduct put[ting] her beyond the pale of bourgeois society of the time and was a matter of gossip even decades later."
Additionally, Verdi was concerned with the administration of his newly acquired property at Sant'Agata close to Busseto, where he had established his parents two years before, and to where he began planning to move.
Separation from his parents; the complicating issue
The growing estrangement from his parents appears to have been brought about by what biographer Phillips-Matz describes as "Santa Streppini's (
sic
) mother got pregnant around the end of June 1850 or the beginning of July in 1850." She infers that it was Strepponi who became pregnant, noting that the decline in the relationship began towards the end of 1850 because, if it had been Giuseppina who was pregnant, it would have become obvious by that time. In January 1851, the situation had become so bad that Verdi officially broke off his relationship with his parents, ordering a document of legal separation from them to be prepared by the notary Balestra in which he gave Carlo and Luigia two months notice to leave Sant'Agata. Later, the illnesses of both his mother (who died in July 1851) and father and the need to settle mutually-owed debts in the context of communication only being able to be conducted via Balestra, thus revealing the depth of the decline. Finally, in April 1851, agreement was reached with the elder Verdis on the payment of debts mutually owed and the couple were given two months to re-settle and ordered to leave Sant'Agata by April 1851. Verdi found a new home for them and helped them financially in getting settled.
Therefore, the issue of the pregnancy, which is based on evidence found in the Registro [degli] Eposti, 1848—1872, in the City of Cremona's archives, reveals that on 14 April 1851 "a baby girl was born to unidentified parents who had her delivered at nine-thirty that same night to the turnstile for abandoned babies at the Ospedale Maggiore in Cremona". The child was identified as "Santa Streppini" (
sic
), which suggests to the biographer—based on evidence regarding Strepponi's pregnancies in the 1840s and the methods she employed to handle the newborns—that this could have been Strepponi's daughter, although she does also state that "there is a chance that she was born to a local woman to whom Strepponi lent her name".
May 1851 forward: Verdi and Strepponi at Sant'Agata
But Phillips-Matz concludes that, while there is no proof that the child, Santa Streppini, was Verdi's, the pregnancy "might have been the cause of the upheaval in Verdi's family life in 1850 and 1851, shattering long established, stable relationships and the leading the composer to cut himself off completely from his parents even as he became estranged from the Barezzis."
Meanwhile, early in May, Strepponi had left for Florence, and was away for most of the month. May also brought an offer for a new opera from the La Fenice authorities which was to be realised as
La traviata
. In turn, that was followed by an agreement with the Rome Opera company to present
Il trovatore
for January 1853.
Deterioration of the relationship with Barezzi
Verdi's relationship with his father-in-law, Antonio Barezzi, had also deteriorated by the time the couple had moved to Sant'Agata. While Walker states that there was no breach between the two men, there was a definite cooling off throughout 1851 and into 1852 when Verdi, then in Paris, received a letter from his "Carissimo Suocero" which appears to have criticised him for not being in Busseto over Christmas and New Year 1851. In his long reply, Verdi lays out some of his frustrations and objections to the way in which his actions appear to have been viewed in Busseto. While not blaming his benefactor, he writes that "you live in a town that has the bad habit of often getting mixed up in other people's business, and disapproving of everything that does not conform to its ideas."
However, Phillips-Matz notes that it seems possible, that for the entire time while the couple were living at the Palazzo Cavalli, she did not meet Barezzi nor his sons who are known to have visited, nor is it certain that she would have met either Piave and Muzio on their visits to Sant'Agata in the autumn 1851. Verdi continues his letter by stating that he likes his privacy and the freedom to administer his lands as he sees fit, but clearly states that "I have nothing to hide....[and] I have no difficulty whatever about telling you about my private life" but he declares that neither Strepponi nor he has any obligation to reveal anything about their situation to anyone, and if the people of Busseto are not accepting of that "the loss of 20 or 30 thousand francs will never stop me from finding another patria somewhere else." He concludes by offering his respects to Barezzi, to whom he states "I have always considered you and I consider you my benefactor, and I am honoured by that and I boast of it."
The relationship re-established
After the letter from Barezzi, which had reached Verdi in Paris and then after Verdi's reply, which actually revealed very little, upon the couple's return to Busseto in March 1852 there began a reconciliation with Barezzi and, with it, a greater connection between Giuseppina and her "Nonnon" and between Barezzi and "your most affectionate quasi-daughter" as she was to sign her letters to the older man.
Walker recounts an event later in the summer when Léon Escudier came from Paris to present Verdi with the Order of Chevalier of the Legion of Honour and he found Barezzi present at the dinner table. Escudier describes the older man's attitude towards the composer as "for Father Antonio, Verdi is a demi-god", and the dinner proceeded with Barezzi dominating the conversation and, finally, being allowed to take the award to show it off in the town.
The operas from Luisa Miller to La traviata
Luisa Miller:
(8 December 1849). This operas takes a distinctive turn away from subjects of the kind which preoccupied the Early Period. Music writer Charles Osborne compares this opera with Cammarano's previous libretto for
La battaglia di Legnano
and notes the contrasts between "the domesticity of the story as opposed to the larger, public nature of the earlier opera. Verdi's
Luisa Miller
, his first attempt at portraying something of bourgeois 'respectability' on the stage, is a direct predecessor of
La traviata
, which deals, amongst other things, with bourgeois hypocrisy."
Gabriele Baldini makes a similar point when he comments that the opera "is in every sense a bourgeois tragedy [and] it feeds on the extraordinary fascination we have for everyday violent crimes. Nothing so far written by Verdi comes close to the concept of realism."
and he also notes the essentially "private" nature of the opera; before
Luisa
, "something had always been raging, striving beyond the limits of private interests."
Stiffelio
(16 November 1850). Musicologist Roger Parker describes the opera as "A bold choice, a far cry from the melodramatic plots of Byron and Hugo: modern, 'realistic', subjects were unusual in Italian opera, and the religious subject matter seemed bound to cause problems with the censor. [...] The tendency of its most powerful moments to avoid or radically manipulate traditional structures has been much praised", while Budden basically agrees, stating that "[Verdi] was tired of stock subjects; he wanted something with genuinely human, as distinct from melodramatic, interest. [....]
Stiffelio
had the attraction of being a problem play with a core of moral sensibility; the same attraction, in fact, that lead Verdi to
La traviata
a little later."
Rigoletto
(11 March 1851). While he was still laboring through his "years in the galleys", Verdi created one of his greatest masterpieces, which premiered in Venice in 1851. Based on a play by Victor Hugo (
Le roi s'amuse
), the libretto had to undergo substantial revisions in order to satisfy the epoch's censorship, and the composer was on the verge of giving it all up a number of times, but the opera quickly became a great success. Budden regards it as "revolutionary", just as Beethoven's
Eroica
Symphony was: "the barriers between formal melody and recitative are down as never before. In the whole opera, there is only one conventional double aria [...and there are...] no concerted act finales." Verdi used that same word—"revolutionary"—in a letter to Piave, and Budden also refers to a letter which Verdi wrote in 1852 in which the composer states that "I conceived
Rigoletto
almost without arias, without finales but only an unending string of duets."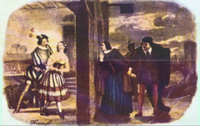 Rigoletto
, act 3 quartet
Il trovatore
(19 January 1853). Commissioned to produce the opera for Rome, Verdi left Strepponi in Livorno in late December 1852 and traveled by sea to Rome, readying himself for the the final work on the opera, although he also worked on
La traviata
at the same time. For a while he was confined to his hotel by illness, but by premiere he was well and the premiere was a huge success. Offered a crown of laurel leaves at the end of the performance, Verdi took it home to give as a gift to Barezzi, "a tangible symbol of their reconciliation" notes Phillips-Matz, and he stayed on for the fourth performance as well: "A total triumph" reported Demaldè.
La traviata
(6 March 1853). Writing to Piave, he stated that "I don't want any of those everyday subjects that one can find by the hundreds"
and so it was agreed that the librettist would go to Sant'Agata and work with the composer. Within a short time, a synopsis was dispatched to Venice under the title of
Amore e morte
(
Love and Death
), and described to his friend De Sactis as "a subject for our own age", and one which Verdi wished to see staged in modern dress. It quickly became clear that that would be impossible; instead it had to be set in the 17th century. The premiere was not well received—due largely to the unsuitable soprano in the main role: Verdi wrote to Muzio declaring it to be a fiasco and stating "
La traviata
last night a failure. Was the fault mine or the singers'? Time will tell."  As the history of this opera has shown, it has become the most popular of all Verdi's operas, placing first in the list of most performed operas worldwide as reported on Operabase.

1853 to 1859, the "Galley Years" come to an end: From Simon Boccanegra to Ballo in maschera
1862 to 1893: The "Late period"
Un ballo in maschera
in 1859 a flow of major operas appeared and which to were to characterise this period. Beginning with
La forza del destino
(commissioned by the Imperial Theatre of Saint Petersburg for 1861 but not performed until 1862), and a revised version of
Macbeth
in 1865. Other major work, written for Paris in 1867 was the significant grand opera
Don Carlos
, commissioned by the Paris Opera and given in French; today, it is most frequently performed in Italian translation as
Don Carlo
. Also from this period is the revised
Simon Boccanegra
originally composed in 1857, but significantly revised in 1881, and it is the revised version which is most commonly performed today.
Requiem Mass
, honoring the famous novelist and poet Alessandro Manzoni, who had died in 1873. The complete Requiem was first performed at the cathedral in Milan on 22 May 1874.
Aida
, is sometimes thought to have been commissioned for the celebration of the opening of the Suez Canal in 1869, and the Khedive had planned to inaugurate an opera house as part of the canal opening festivities, but according to Julian Budden,
Verdi turned down the Khedive's invitation to write an "ode" for the new opera house because "I am not accustomed to compose
morceaux de circonstance
".
 The opera house actually opened with a production of
Rigoletto
. Later, in 1869/70, the organizers again approached Verdi (this time with the idea of writing an opera), but he again turned them down. When they warned him that they would ask Charles Gounod instead and then threatened to engage Richard Wagner's services, Verdi began to show considerable interest, and agreements were signed in June 1870.
Teresa Stolz was associated with both
Aida
and the
Requiem
(as well as a number of other Verdi roles). The role of Aida was written for her, and although she did not appear in the world premiere in Cairo in 1871, she created Aida in the European premiere in Milan in February 1872. She was also the soprano soloist in the first and many later performances of the
Requiem
. It was widely believed that she and Verdi had an affair after she left Angelo Mariani, and a Florence newspaper criticised them for this in five strongly worded articles. Whether there is any truth to the accusation may never be known with any certainty. However, after Giuseppina Strepponi's death, Teresa Stolz became a close companion of Verdi until his own death.
Verdi and Wagner never met. Verdi's comments on Wagner and his music are few and hardly benevolent ("He invariably chooses, unnecessarily, the untrodden path, attempting to fly where a rational person would walk with better results"), but at least one of them is kind: upon learning of Wagner's death, Verdi lamented, "Sad, sad, sad! ... a name that will leave a most powerful impression on the history of art."
Of Wagner's comments on Verdi, only one is well-known. After listening to Verdi's
Requiem
, the German, prolific and eloquent in his comments on some other composers, stated, "It would be best not to say anything.
Later years
Don Carlos
,
La forza del destino
, and
Simon Boccanegra
.
Otello
, based on William Shakespeare's play, with a libretto written by the younger composer of
Mefistofele
, Arrigo Boito, premiered in Milan in 1887. Its music is "continuous" and cannot easily be divided into separate "numbers" to be performed in concert. Some feel that although masterfully orchestrated, it lacks the melodic lustre so characteristic of Verdi's earlier, great, operas, while many critics consider it Verdi's greatest tragic opera, containing some of his most beautiful, expressive music and some of his richest characterizations. In addition, it lacks a prelude, something Verdi listeners were not accustomed to. Arturo Toscanini performed as cellist in the orchestra at the world premiere and began his association with Verdi (a composer he revered as highly as Beethoven).
Verdi's last opera,
Falstaff
, completed and performed in 1893, whose libretto was also by Boito, was based on Shakespeare's
Merry Wives of Windsor
and Henry IV, Part 1 via Victor Hugo's subsequent translation. It was an international success and is one of the supreme comic operas which show Verdi's genius as a contrapuntist.
In 1894, Verdi composed a short ballet for a French production of
Otello,
his last purely orchestral composition. Years later, Arturo Toscanini recorded the music for RCA Victor with the NBC Symphony Orchestra which complements the 1947 Toscanini performance of the complete opera.
In 1897, Verdi completed his last composition, a setting of the traditional Latin text
Stabat Mater
. This was the last of four sacred works that Verdi composed,
Quattro pezzi sacri
, which can be performed together or separately. They were not conceived as a unit and, in fact, Verdi did not want the Ave Maria published, as he considered it an exercise. The first performance of the four works was on 7 April 1898, at the Opéra, Paris. The four works are:
Ave Maria
for mixed chorus;
Stabat Mater
for mixed chorus and orchestra;
Laudi alla Vergine Maria
for female chorus; and
Te Deum
for double chorus and orchestra.
Last years
While staying at the Grand Hotel et de Milan in Milan, Verdi suffered a stroke on 21 January 1901. He gradually grew more feeble and died nearly a week later, on 27 January. Arturo Toscanini conducted the vast forces of combined orchestras and choirs composed of musicians from throughout Italy at Verdi's funeral service in Milan. To date, it remains the largest public assembly of any event in the history of Italy.
Verdi was initially buried in Milan's Cimitero Monumentale. A month later, his body was moved to the "crypt" of the Casa di Riposo per Musicisti, a rest home for retired musicians that Verdi had recently established. In October 1894, the French government awarded him the Grand-Croix de la Légion d'honneur.
 He was the first non-French musician to receive the Grand-Croix.
It has not been determined as to whether Verdi was an agnostic or an atheist; different opinions have emerged from those who knew him. One writer states:
Verdi sustained his artistic reputation and his personal image in the last years of his life. He never relinquished his anticlerical stance, and his religious belief verged on atheism. Strepponi described him as not much of a believer and complained that he mocked her religious faith. Yet he summoned the creative strength to write the Messa da Requiem (1874) to honor Manzoni, his "secular saint," and conduct its world premiere.
Toscanini, in a taped interview, described Verdi as "an atheist", His second wife, Giuseppina Strepponi, described him as "a man of little faith".
Role in the Risorgimento
Nabucco
. The myth claims that, when the "Va, pensiero" chorus was sung in Milan, then belonging to the large part of Italy under Austrian domination, the audience, responding with nationalistic fervor to the exiled slaves' lament for their lost homeland, demanded an encore of the piece. As encores were expressly forbidden by the government at the time, such a gesture would have been extremely significant. However, recent scholarship puts this to rest. Although the audience did indeed demand an encore, it was not for "Va, pensiero" but rather for the hymn
Immenso Jehova,
sung by the Hebrew slaves to thank God for saving His people. In light of these new revelations, Verdi's position as the musical figurehead of the Risorgimento has been correspondingly downplayed.
 It is interesting to note in this context that all but seven (his last operas) were created by Verdi whilst Milan, the capital of Lombardo Veneto, was an integral part of the Austrian Empire.
On the other hand, during rehearsals, workmen in the theater stopped what they were doing during "Va, pensiero" and applauded at the conclusion of this haunting melody
while the growth of the "identification of Verdi's music with Italian nationalist politics" is judged to have begun in the summer of 1846 in relation to a chorus from
Ernani
in which the name of one of its characters, "Carlo", was changed to "Pio", a reference to Pope Pius IX's grant of an amnesty to political prisoners.
Verdi's 14th opera,
La battaglia di Legnano
, written while Verdi was living in Paris in 1848 (though he quickly traveled to Milan after news of the "Cinque Giornate" arrived there) seems to have been composed specifically as "an opera with a purpose" (as opera historian Charles Osborne describes it), but Osborne continues: "while parts of Verdi's earlier operas had frequently been taken up by the fighters of the Risorgimento ... this time the composer had given the movement its own opera".
After Italy was unified in 1861, many of Verdi's early operas were re-interpreted as Risorgimento works with hidden Revolutionary messages that probably had not been intended by either the composer or librettist. Beginning in Naples in 1859 and spreading throughout Italy, the slogan "Viva VERDI" was used as an acronym for
Viva Vittorio Emanuele Re
D
'
I
talia
(Viva Victor Emmanuel King of Italy), referring to Victor Emmanuel II, then king of Sardinia.
The "Chorus of the Hebrews" (the English title for "Va, pensiero") has another appearance in Verdi folklore. Prior to Verdi's body's being driven from the cemetery to the official memorial service and its final resting place at the Casa di Riposo per Musicisti, Arturo Toscanini conducted a chorus of 820 singers in "Va, pensiero". At the Casa, the "Miserere" from
Il trovatore
was sung.
Verdi was elected as a member of the Chamber of Deputies in 1861 following a request of Prime Minister Cavour but in 1865 he resigned from the office.
In 1874 he was named Senator of the Kingdom by King Victor Emmanuel II.
Styles
Verdi's predecessors who influenced his music were Rossini, Bellini, Giacomo Meyerbeer and, most notably, Gaetano Donizetti and Saverio Mercadante. Some strains in
Aida
suggest at least a superficial familiarity with the works of the Russian composer Mikhail Glinka, whom Franz Liszt, after his tour of the Russian Empire as a pianist, popularized in Western Europe.
Throughout his career, Verdi rarely utilized the high C in his tenor arias, citing the fact that the opportunity to sing that particular note in front of an audience distracts the performer before and after the note appears. However, he did provide high Cs to
Duprez
in
Jérusalem
and to Tamberlick in the original version of
La forza del destino
. The high C, often-heard in the aria "Di quella pira" from
Il trovatore
, does not appear in Verdi's score.
Verdi himself once said, "Of all composers, past and present, I am the least learned." He hastened to add, however, "I mean that in all seriousness, and by learning I do not mean knowledge of music."
However, it would be incorrect to assume that Verdi underestimated the expressive power of the orchestra or failed to use it to its full capacity where necessary. Moreover, orchestral and contrapuntal innovation is characteristic of his style: for instance, the strings producing a rapid ascending scale in Monterone's scene in
Rigoletto
accentuate the drama, and, in the same opera, the chorus humming six closely grouped notes backstage portrays, very effectively, the brief ominous wails of the approaching tempest. Verdi's innovations are so distinctive that other composers do not use them; they remain, to this day, some of Verdi's signatures.
Verdi was one of the first composers who insisted on patiently seeking out plots to suit his particular talents. Working closely with his librettists and well aware that dramatic expression was his forte, he made certain that the initial work upon which the libretto was based was stripped of all "unnecessary" detail and "superfluous" participants, and only characters brimming with passion and scenes rich in drama remained.
Many of his operas, especially the later ones from 1851 onwards, are a staple of the standard repertoire. With the possible exception of Giacomo Puccini, no composer of Italian opera has managed to match Verdi's popularity.
Works
Verdi's operas (in Italian unless noted) and the date of the première of each:
Legacy
Giuseppe Verdi
, starring Fosco Giachetti; the 1982 miniseries,
The Life of Verdi
, directed by Renato Castellani, where Verdi was played by Ronald Pickup, with narration by Burt Lancaster in the English version; and the 1985 play
After Aida
(a play-with-music similar to
Amadeus
). He is a character in the 2011 opera
Risorgimento!
by Italian composer Lorenzo Ferrero, written to commemorate the 150th anniversary of Italian unification of 1861.
There are three music conservatories, the Milan Conservatory and those in Turin and Como, and many theatres named after Verdi in Italy. There is a Giuseppe Verdi Monument in Verdi Square in Manhattan, in the USA.
The towns of Verdi, Nevada and Verdi, California which straddle the state line were named after Verdi by Charles Crocker, founder of the Central Pacific Railroad, when he pulled a slip of paper from a hat and read the name of the Italian opera composer in 1868.
Verdi, Minnesota is named both for the composer and the green fields surrounding the town.
A relatively young impact crater on the planet Mercury was named after Verdi in 1979 by the International Astronomical Union
and sometimes called "Joe Green" by NASA.
Verdi's name literally translates as "Joseph Green" in English (although
verdi
is the plural form of "green"). Musical comedian Victor Borge often referred to the famous composer as "Joe Green" in his act, saying that "Giuseppe Verdi" was merely his "stage name". The same joke-translation is mentioned in Agatha Christie's
Evil Under the Sun
by Patrick Redfern to Hercule Poirot – a prank which inadvertently gives Poirot the answer to the murder.
Sources
Baldini, Gabriele, (trans. Roger Parker) (1980), The Story of Giuseppe Verdi: Oberto to Un Ballo in Maschera. Cambridge, et al: Cambridge University Press. ISBN 0-521-29712-5
Balthazar, Scott E. (ed.) (2004), The Cambridge Companion to Verdi, Cambridge: Cambridge University Press. ISBN 978-0-521-63535-6
Black, John (1984), The Italian Romantic Libretto: A Study of Salvadore Cammarano, Edinburgh University Press, 1984 ISBN 978-0-85224-463-0 ISBN 0-85224-463-0
Budden, Julian (1984), The Operas of Verdi, Volume 1: From Oberto to Rigoletto. London: Cassell. ISBN 0-304-31058-1.
Budden, Julian (1984). The Operas of Verdi, Volume 2 (3rd ed.). London: Cassell. ISBN 0-19-816262-6.

 

Budden, Julian (1984). The Operas of Verdi, Volume 3 (3rd ed.). London: Cassell. ISBN 0-19-816263-4.

 

Budden, Julian (1996), Verdi. New York: Schirmer Books (Master Musicians Series). ISBN 0028646169 ISBN 9780028646169
Casini, Claudio (1985), Verdi, Milan: Rusconi, 1982 ISBN 978-88-18-70061-9

(Italian)

; Königstein: Athenäum, 1985 ISBN 3-7610-8377-7

(German)

Chusid, Martin, (Ed.) (1997), Verdi's Middle Period, 1849 to 1859, Chicago and London: University of Chicago Press. ISBN 0-226-10658-6 ISBN 0-226-10659-4
Delgrada, Francesco, (Ed.) (2000), Giuseppe Verdi: l'uomo, l'opera, il mito, Milan, Skira. ISBN 88-8118-816-3 ISBN 978-88-8118-816-1 Catalogue from an exhibition at the Palazzo Reale.

(Italian)

De Van, Gilles (trans. Gilda Roberts) (1998), Verdi's Theater: Creating Drama Through Music. Chicago & London: University of Chicago Press, 1998 ISBN 0-226-14369-4 (hardback), ISBN 0-226-14370-8
Kamien, R. (1997). Music: an appreciation – student brief (3rd ed.). McGraw Hill. ISBN 0-07-036521-0.

 

\\
Kimbell, David R. B. (1981), Verdi in the Age of Italian Romanticism, Cambridge: Cambridge University Press. ISBN 0521316782 ISBN 9780521316781
Kimbell, David, in Holden, Amanda (Ed.) (2001), The New Penguin Opera Guide, New York: Penguin Putnam. ISBN 0-14-029312-4
Gal, H. (1975). Brahms, Wagner, Verdi: Drei Meister, drei Welten. Fischer. ISBN 3-10-024302-1.

 

Harwood, Gregory W. (1998). Giuseppe Verdi: A Guide to Research. Routledge. ISBN 978-0-8240-4117-5.

 

Harwood, Gregory (2012). Giuseppe Verdi: A Research and Information Guide (2d ed.). Abingdon (New York); Routledge (UK). ISBN 0-415-88189-7.

 

Hunt, Lynn (2009). The Making of the West (3rd ed.). Bedford/St. Martin's. ISBN 0-312-46510-6.

 

Kutsch, K. J. and Riemens, Leo (1969), A Concise Biographical Dictionary of Singers: From the Beginning of Recorded Sound to the Present (Trans. from German, expanded and annotated by Harry Earl Jones). Philadelphia, Chilton Book Company. ISBN 0-8019-5516-5.
Martin, George (1984), Verdi: His Music, Life and Times, New York: Dodd, Mead and Company, 1986 ISBN 0-396-08196-7
Marvin, Roberta Montemorra (ed.) (2013 & 2014), The Cambridge Verdi Encyclopedia, Cambridge, UK: Cambridge University Press. ISBN 978-0-521-51962-5. e-book: December 2013 / Hardcover: January 2014
Michels, Ulrich (1992). dtv-Atlas zur Musik: Band Zwei (in German) (7th ed.). Deutscher Taschenbuch Verlag. ISBN 3-423-03023-2.

 

Newman, Earnest (1930), Stories of the Great Operas. Philadelphia: The Blakinson Company
Newark, Cormac (2013), "Scenic Dispositions: Verdi's changing attitude to opera production", Opera (London), December, Volume 64, No. 12, pp. 1557–1562.
Osborne, Charles (1969) , The Complete Opera of Verdi, New York: Da Capo Press, Inc. ISBN 0-306-80072-1
Parker, Roger (1998), "Verdi, Giuseppe" in Stanley Sadie, (Ed.), The New Grove Dictionary of Opera, Vol. Four. London: MacMillan Publishers, Inc. ISBN 0-333-73432-7 ISBN 1-56159-228-5
Parker, Roger (1998), "Due Foscari, I" in Stanley Sadie, (Ed.), The New Grove Dictionary of Opera, Vol. 1. London: MacMillan Publishers, Inc. ISBN 0-333-73432-7 ISBN 1-56159-228-5
Parker, Roger (2007), The New Grove Guide to Verdi and His Operas, Oxford & New York: Oxford University Press. ISBN 978-0-19-531314-7
Phillips-Matz, Mary Jane (1993), Verdi: A Biography, London & New York: Oxford University Press. ISBN 0-19-313204-4
Polo, Claudia (2004), Immaginari verdiani. Opera, media e industria culturale nell'Italia del XX secolo, Milano: BMG/Ricordi.

(Italian)

Rosen, David (1995), Verdi: Requiem, Cambridge: Cambridge Music Handbooks. ISBN 978-0-521-39767-4
Schonberg, Harold C. (1997). "The Lives of the Great Composers". W. W. Norton & Company. ISBN 0-393-03857-2. Retrieved

9 January

2008.

 

Tintori, Giampiero (1983), Guida all'ascolto di Giuseppe Verdi, Milano: Mursia.

(Italian)

Toscanini, Arturo (Ed. Harvey Sachs) (2002), The letters of Arturo Toscanini, New York: Alfred A. Knopf. ISBN 978-0-375-40405-4
Walker, Frank (1982), The Man Verdi, New York: Knopf, 1962, Chicago: University of Chicago Press. ISBN 0-226-87132-0 (link to full text)
Werfel, Franz and Stefan, Paul (1973), Verdi: The Man and His Letters, New York: Vienna House. ISBN 0-8443-0088-8
Verdi's life in and around Busseto
Associazione Amici di Verdi (ed.), Con Verdi nella sua terra, Busseto, 1997

(English)

"Busetto. Terra di Verdi": website of the Comune di Busetto, with information on many aspects of local life and events taking place.
Maestrelli, Maurizio, Guida alla Villa e al Parco

(Italian)

, publication of Villa Verdi, 2001
Mordacci, Alessandra, An Itinerary of the History and Art in the Places of Verdi, Busseto: Busseto Tourist Office, 2001

(English)

Villa Verdi: the Visit and Villa Verdi: The Park; the Villa; the Room, publications of the Villa Verdi.

(English)

Villa Verdi: Offical website

(English)
External links
 Giuseppe Verdi official website
National Museum Giuseppe Verdi - Busseto
Verdi material in the BBC Radio 3 archives
Works by Giuseppe Verdi at Project Gutenberg
"Album Verdi" from the Digital Library of the National Library of Naples (Italy)
Digitised collection of Verdi libretti and scores collected by music bibliographer Cecil Hopkinson at National Library of Scotland
Free scores by Verdi at the International Music Score Library Project
Free scores by Giuseppe Verdi in the Choral Public Domain Library (ChoralWiki)
The Mutopia Project has compositions by Giuseppe Verdi
Works by or about Giuseppe Verdi in libraries (WorldCat catalog)
"Verdi and Milan", lecture by Roger Parker on Verdi, given at Gresham College, London 14 May 2007
Verdi cylinder recordings, from the Cylinder Preservation and Digitization Project at the University of California, Santa Barbara Library
The website of the first iPhone and iPad app about Giuseppe Verdi and Milan, created with the patronage of the Municipality and the Province of Milan
Licenses and Attributions