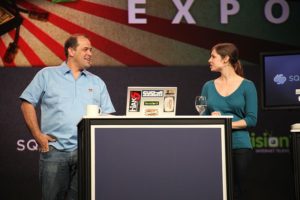 In this chapter, we've discussed
Communication Apprehension
or CA. This difficult condition can be the result of many, varied causes. Even professional researchers don't always agree on whether CA is inherent in the person, or the result of what the person experiences or perceives—with some calling it "
trait-anxiety
;" others "
state-anxiety
;" and still others classifying it as "
scrutiny fear
." The first step for any person to address this condition is self-reflection. Try to identify what has caused you to feel the way you do about public speaking. Careful introspection can result in a more productive level of self-awareness.
Whatever the root cause of CA might be for any particular individual, the first step in addressing CA is to objectively view the
habitual frame of reference
that has emerged in your mind regarding public speaking. Consider all those "what-if's" that keep cropping up in your mind and how you might begin to address them productively, rather than simply to ignore them and hope they go away. Go through the steps of
Cognitive Restructuring
or CR. Consider how many of those "what-if's" are nothing more than invented pressure that you place upon yourself.
Relaxation techniques, such as "
Breathe and Release
," have proven to be effective for many speakers, especially those concerned with the physical manifestations of nervousness like trembling hands or shaky knees. Remember that those sorts of tremors can often be exacerbated by efforts to hold still. Don't force yourself to hold still! Relax instead.
Lastly, we discussed the most effective means to prepare—which is toward the goal of becoming
conversant
in your topic, rather than being able to recite a memorized script. By familiarizing yourself with your topic, you become better able to consider the best way to talk to your audience, rather than becoming "married to your script" and ultimately consumed with saying the words in the right order. Practicing out-loud, without a mirror to distract you, is the best way to prepare yourself.
CA is a real issue, but it need not be an obstacle to success. Take the time to become more aware of your personal brand of CA. Take positive steps to minimize its impact. Your willingness to work and your positive attitude are the keys to your success.
Believe you can and you're halfway there.

—Theodore Roosevelt
Licenses and Attributions