Cost-volume-profit (CVP) analysis
Companies use
cost-volume-profit (CVP) analysis
(also called break-even analysis) to determine what affects changes in their selling prices, costs, and/or volume will have on profits in the short run. A careful and accurate cost-volume-profit (CVP) analysis requires knowledge of costs and their fixed or variable behavior as volume changes.
A
cost-volume-profit chart
is a graph that shows the relationships among sales, costs, volume, and profit. Look at illustration below.  The illustration shows a cost-volume-profit chart for Video Productions, a company that produces DVDs. Each DVD sells for $20. The variable cost per DVD is $12, and the fixed costs per month are $ 40,000.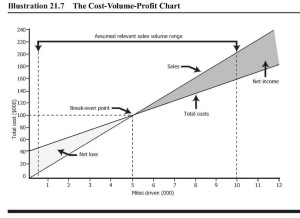 The total cost line represents the fixed costs of  $40,000 plus $12 per unit. Thus, if Video Productions produces and sells 6,000 DVDs, the company's total costs are $112,000, made up of $40,000 fixed costs and $ 72,000 total variable costs ($ 72,000 = $ 12 per unit X 6,000 units produced and sold).
The total revenue line shows how revenue increases as volume increases. Total revenue is $ 120,000 for sales of 6,000 tapes ($ 20 per unit X 6,000 units sold). In the chart, we demonstrate the effect of volume on revenue, costs, and net income, for a particular price, variable cost per unit, and fixed cost per period.
At each volume, one can estimate the company's profit or loss. For example, at a volume of 6,000 units, the profit is $8,000. We can find the net income either by constructing an income statement or using the profit equation. The contribution margin income statement gives the following results for a volume of 6,000 units:
| | |
| --- | --- |
| Revenue | $120,000 |
| Less: variable costs | 72,000 |
| Contribution margin | $ 48,000 |
| Less: Fixed costs | 40,000 |
| Net income | $ 8,000 |
We have introduced a new term in this income statement—the contribution margin. The
contribution margin
is the amount by which revenue exceeds the variable costs of producing that revenue. We can calculate it on a per unit or total sales volume basis. On a per unit basis, the contribution margin for Video Productions is $8 (the selling price of $20 minus the variable cost per unit of $ 12).
| | |
| --- | --- |
| Contribution Margin = | Sales - Variable Cost |
The contribution margin indicates the amount of money remaining after the company covers its variable costs. This remainder contributes to the coverage of fixed costs and to net income. In Video Production's income statement, the $ 48,000 contribution margin covers the $ 40,000 fixed costs and leaves $ 8,000 in net income.
You can also calculate a contribution margin ratio by using the following formula:
Contribution Margin RATIO  =    

Sales - Variable Cost

Sales
Watch this video to see more about contribution margin and how it can be used in business.