What you'll learn to do: describe measures companies take to encourage ethical behavior
Ethical issues arise at both an organizational level and an individual level. A single individual can engage in unethical behavior, but most ethical breaches that have significant impact on a business occur when many individuals come together to act unethically. This section will review the steps that businesses take at each level to define ethical behavior and create a culture that encourages employees to do the right thing.
The way to gain a good reputation is to endeavor to be what you desire to appear.—Socrates
The specific things you'll learn in this section include:
Explain the importance of ethics policies and a culture of accountability for all employees
Identify the unique ethical considerations and roles for company executives
Describe how companies manage ethical behavior of marketing employees
At the beginning of this module we discussed the 2015 revelation that Volkswagen installed emissions-altering software in eleven million diesel vehicles worldwide, which caused the cars to pass emissions tests they should have failed. Consider, for a moment, how many employees would have to be involved in order to achieve this level of fraud?  This was not the handiwork of a single employee but the result of a pattern of unethical behavior in the company. When the Ethics & Compliance Initiative (ECI) released the results of its 2013 National Business Ethics Survey, it noted that these types of broad, organizational breaches are fairly common.
The survey shows that a significant amount of misconduct involves continuous, ongoing behavior rather than one-time incidents: Employees say that more than a quarter (26 percent) of observed misconduct represents an ongoing pattern of behavior. Another 41 percent said the behavior has been repeated at least a second time. Only one-third (33 percent) of rule breaking represents a one-time incident.
In the case of Volkswagen, an early internal investigation pointed to a "culture of tolerance" for ethical compromises. Employees were pushed to do what was needed to meet corporate objectives at any cost.
The organizational culture is comprised of the values and beliefs that an organization shares, which create its social environment. The culture of a large organization can be difficult to understand since it is influenced by many different factors. Still, many research studies point to leadership and policies as being instrumental in building an ethical organizational culture.
Policies That Encourage Ethical Behavior
Many companies have a specific policy that defines appropriate behavior. The policy is often called the Standards for Business Conduct. As the name suggests, the policy is intended to set the standards for acceptable behavior; it's not meant to be an exhaustive list of every type of ethical behavior.
Many of these policies do the following:
Define the threshold for behavior: While it should go without saying that employees are expected to be law abiding, companies choose to be quite explicit about stating that they require their employees to follow the law.
Create expectations for behavior: The policies identify common issues that employees may encounter—such as accepting gifts from suppliers—and explain how they should be handled.
Set policy: establish company protocols for handling confidential information, including customer data, etc.
Give guidance on making judgment calls: Companies often define how they would like employees to make decisions when guidelines do not adequately cover them.
Describe reporting and enforcement procedures: There is generally a process for reporting and addressing issues, as well as information about how the company will protect those reporting concerns.
Let's examine some examples from company policies to see how some of these components are addressed.
The Legal Threshold
The ethics policy generally begins by reminding employees that they are required to act in accordance with the law. For companies that engage in business across the globe this can be complex. Starwood Hotels and Resorts addresses this issue in their Code of Business Conduct and Ethics:
You must, at all times, obey the laws of the jurisdictions where we conduct business. Starwood conducts business all around the world. Our associates are citizens of many countries. As a result, our operations are subject to the laws of many jurisdictions. It is often challenging for us to understand how those various laws apply to our businesses. However, whether you are a Starwood associate or member of the Board of Directors, you are expected to conduct yourself in accordance with applicable law.

Starwood is a company organized under the laws of the United States and is generally subject to U.S. federal law. From time to time, the laws of the United States conflict with laws of a city, town, country or other jurisdiction where we conduct business. If there is a conflict between the applicable laws, seek guidance from the Office of the General Counsel (Legal).  
Starwood has established a clear expectation to follow the law, acknowledged the complexity of their business environment, and provided direction when employees need help.
Creating Expectations for Behavior
In the course of a normal business day, many service employees receive tips. Where is the line between an appropriate tip and a gift? Starbucks has defined this for employees in its Standards of Business Conduct:
A gift or favor should not be accepted or given if it might create a sense of obligation, compromise your professional judgment or create the appearance of doing so. In deciding whether a gift is appropriate, you should consider its value and whether public disclosure of the gift would embarrass you or Starbucks.

A gift of money should never be given or accepted. (Some retail partners, however, may accept customary tips for service well done.) As a general rule, partners should limit gifts to or from any one vendor or business associate to US $75 per year. A gift of nominal value may be given or accepted if it is a common business courtesy, such as coffee samples, a coffee cup, pens or a similar token. However, during traditional gift-giving seasons in areas where it is customary to exchange gifts of money, such as China, Japan, Malaysia, Singapore and Thailand, partners should not solicit but may exchange cash with nongovernmental business associates in nominal amounts up to the equivalent of US $20.
It is very common for company's to set a threshold for giving and receiving gifts. These specific guidelines help employees navigate what would otherwise be a judgment call and make it easier to identify an ethical breach and initiate corrective action.
Setting Policy
United Parcel Service (UPS) groups the sections of its Code of Business Conduct into stakeholder groups: our company, our people, our customers, our shareholders, and our communities. This enables the company to address a range of workforce expectations, such as workplace safety:
UPS is committed to a safe work environment that is free of threats, intimidation, and physical harm. Everyone has a right to work in a safe environment and everyone shares the responsibility for ensuring the safety of others. We have zero tolerance for workplace violence, and we will investigate and take appropriate action up to and including dismissal regarding any threats to a safe workplace.

UPS prohibits violent behavior in the workplace including, but not limited to, physical assaults, fighting, threatening comments, intimidation, threats through electronic communications including social media, and the intentional or reckless destruction of property of the company, employee, UPS representative, or customer. Comments or behavior that reasonably could be interpreted as intent to do harm to people or property will be considered a threat. We also prohibit the unauthorized possession and/or use of weapons by any employee or UPS representative while at work, on company property, or while on company business.
The UPS policy is very specific about its expectations of employees in ensuring a safe work environment.
Judgment Calls
No policy will address every issue, nor should it try. Most policies try to guide employees in the way they should make judgment calls. In its Standards of Business Conduct, American Airlines addresses this issue specifically:
Remember, your best resource about what's right or wrong is your own conscience. So if you find yourself in a difficult situation, think before you act. And ask yourself the following questions:



Is it legal? If it's not legal, don't do it.
Is it ethical? If it feels wrong, it probably is wrong.
How would it look in the newspaper? If you wouldn't feel comfortable if your friends and family knew about your actions, you probably shouldn't do it.




These policies are an important tool in building a culture of accountability and ethical behavior in a company, but the policies must be upheld by all the employees, and senior leaders play a significant role in reinforcing their importance.
Consider the following observation by the ECI on the results of the National Business Ethics survey:
Managers–those expected to act as role models or enforce discipline–are responsible for a large share of workplace misconduct (60 percent) and senior managers are more likely than lower-level managers to break rules. Surveyed employees said that members of management are responsible for six of every ten instances of misconduct and they pointed the finger at senior managers in 24 percent of observed rule breaking. Middle managers were identified as the culprit 19 percent of the time and first-line supervisors were identified as bad actors 17 percent of the time.
If you're thinking about ways of boosting or ensuring ethical behavior in an organization, this is an interesting and alarming finding. In a supplemental report on Ethical Leadership, ECI reports that employees at all sizes of companies draw conclusions about their leaders' character primarily on the basis of the following:
The overall character of their leaders as experienced through personal interactions;
How senior managers handle crises; and
The policies and procedures adopted by senior leaders to manage the company.
Employees want to know, for example, whether leaders treat lower level employees with dignity and respect, share credit when good things happen, and uphold standards even when it reduces revenues and profits. They watch to see whether leaders are steady in crisis, hold themselves accountable or, alternatively, shift blame to others. Workers also look at day-to-day management decisions to gauge whether ethical behavior is recognized and rewarded, or whether praise and promotions go to workers who bend the rules.
These findings suggest the important role that executives play in building ethical organizations—ethics and integrity tend to start (or fail) at the top and trickle down.
Executives Set Company Objectives
When executives establish specific, measurable objectives for the company, those objectives determine where people will focus their time and effort. When the objectives cannot be met and there are dire personal consequences for failure, such conditions can lead to the compromise of ethics and standards. In the National Business Ethics Survey, 70 percent of employees identified pressure to meet unrealistic business objectives as most likely to cause them to compromise their ethical standards, and 75 percent identified either their senior or middle management as the primary source of pressure they feel to compromise the standards of their organizations.
In the Volkswagen case, internal investigations have questioned how both the company culture and the behavior of former CEO Martin Winterkorn contributed to a systemic ethical breach. Like many chief executives, Martin Winterkorn was a demanding boss who didn't like failure, but critics say the pressure on managers at Volkswagen was unusual, which may go some way toward explaining the carmaker's crisis. When he became CEO in 2007, Winterkorn set an objective to make VW the world's biggest carmaker, which would require tremendous growth in the highly competitive U.S. car market. In the years since, VW has nearly doubled it global annual sales to 10 million cars and its revenue to $225 billion. In early 2015, VW finally approached its goal, selling marginally more vehicles than the world's number-one automaker, Toyota of Japan. One former sales executive said that the pressure soared under the target."If you didn't like it, you moved of your own accord or you were performance-managed out of the business," he said.
In describing a Winterkorn's leadership style, a former VW executive confidentially told Reuters New Agency, "There was always a distance, a fear and a respect . . . If he would come and visit or you had to go to him, your pulse would go up. If you presented bad news, those were the moments that it could become quite unpleasant and loud and quite demeaning."
A week after U.S. regulators revealed the company's cheating, Bernd Osterloh, the employee representative on VW's supervisory board, sent a letter to VW staff suggesting the change that was needed: "We need in the future a climate in which problems aren't hidden but can be openly communicated to superiors," said Osterloh. "We need a culture in which it's possible and permissible to argue with your superior about the best way to go."
In
Fortune
magazine, Dr. Paul Argenti suggested, "Rather than playing the blame game, executives should ask if pressures to grow at all costs might have created dishonest employees."
It seems likely that aggressive corporate objectives (and more specifically marketing objectives related to market share) played a contributing role in the Volkswagen ethics scandal. Moreover, when executives set aggressive goals, it becomes more important to cultivate communication channels to openly address issues. This was obviously not the case at Volkswagon.
Executives Create Company Policy
In the previous reading we reviewed a number of company policies that address ethical conduct. Executives play an important role in creating those policies—and by visibly following and upholding them. As the survey data cited above suggest, employees look to executives to decide whether standards-of-business-conduct policies should be observed and respected. When executives bend the rules or turn a blind eye to bad behavior, the policies lose value and executives lose the respect of employees. This opens the door to a range of unanticipated issues, as employees look to ethical norms outside stated policy and beyond the executives' control.
Executives Hire and Promote Company Managers
Internal promotions send very strong signals about what is important to a company. When the company hires an employee from a different company, she is likely not well known by most employees. If the company promotes an employee who is already working at the company, others know him and understand what he has done to deserve the promotion. If the company promotes individuals to management positions when they have displayed questionable ethics in the workplace, it creates two issues. First, it creates a level of managers who are more likely to encourage their employees to achieve business results at any cost, even when ethics are compromised. Second, it sends a message to all employees that business results are more important than ethics.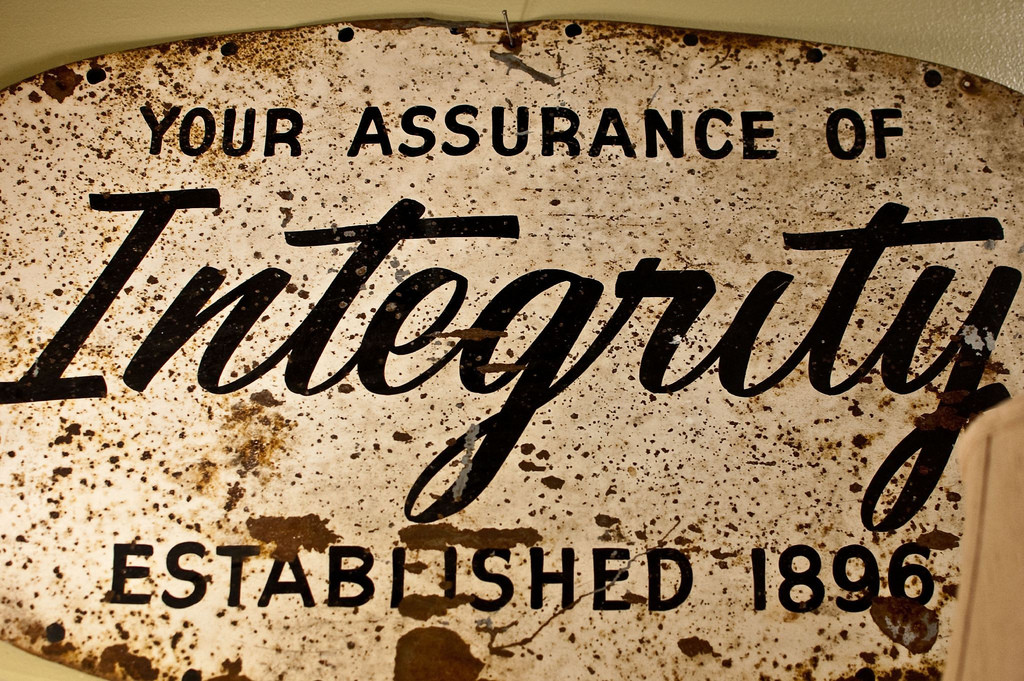 If you are hired to work in marketing at a typical company, there will likely be clear ethical standards defined in a company policy and some level of compliance among employees at all levels in the company. You will witness ethical breaches and need to decide whether to report them or not. You will see examples of outstanding ethics and have the opportunity to participate in debates about ethical disagreements and issues. No company is perfect, but most are trying to be ethical.
How can you, as a marketer, make a difference? Marketers have a specific set of responsibilities when it comes to preventing and addressing ethical issues. These are described below.
Demonstrate Respect for Your Target Customer
Marketing is not a game of manipulation. Good marketing provides compelling solutions and informs customers to help them make good selections and realize value. Recognize the customer's need for an offering that is easy to use and includes clear instructions and appropriate warnings. Remain available to customers to hear complaints. Be humble enough to recognize that not everyone wants to hear your messages. If you demonstrate respect for the consumer, you will find new opportunities to provide value. If you treat consumers like a commodity to be manipulated, a host of ethical issues will clutter your path.
Prepare the Sales Team to Sell Effectively and Ethically
If personal sales are a part of the business plan, then marketers have an important responsibility to prepare the sales team for success. Often marketers are asked to create the message, and sales reps are asked to deliver it. When the sales rep is prepared with a strong value proposition, effective communication materials and presentations, and thorough market research, the sales rep can do her best work. When the marketing mix is not hitting the mark, the sales rep's is much more difficult, and there is a greater risk of ethical issues. It is the marketer's responsibility to prepare sales reps to be successful without compromising their integrity.
Demonstrate High Personal Standards in Business Relationships
Marketers often entertain and give gifts. It is not unusual for the marketing team to create the gift list for all customers. Marketers cultivate business relationships and distributor relationships, too. If marketing demonstrates a high standard for professionalism and ethics in these relationships, it sends a strong message and increases the expectation that others will, as well.
Provide Fair Value to the Target Customer
Many ethical issues result from some level of deception involving misstatement of value to the customer. Be accurate in communications to customers about the value that a product provides. Be clear in pricing and contracts. Pricing strategies that confuse customers and cost more than the customer initially believed are never a good long-term strategy.
Play Nicely in the Competitive Environment
Companies in a competitive market shift positions and introduce innovations to give them new competitive advantage. This is the very nature of a competitive marketplace. Treat competitors with respect and learn from their approaches. Do thorough competitive research to understand them better. Do not seek to gain confidential information about competitors or their products.
Be Truthful
Seek to create a relationship of trust with your target customer through honest, helpful communication. This is such a simple but important recommendation for all marketers. If customers trust the product, the company, and the brand, business results improve, and the company has greater flexibility to introduce new products or make market adjustments.
Licenses and Attributions