What you'll learn to do: Discuss the rise of electronic retailing through the internet
As we begin, it's necessary to distinguish between electronic retailing (e-tailing) and broader e-commerce. While closely related and sometimes used synonymously, e-tailing is actually a subset of e-commerce. That is, e-commerce refers to any exchange of goods on-line, while e-tailing refers specifically to retailing online. This, of course, doesn't minimize e-tailing, as it's an important element of overall retail activity and a critical channel for producers, retailers, and consumers.
Learning Outcomes
Define the role of the web to retailers
List some advantages and disadvantages of electronic retailing
Compare and contrast the benefits of mobile and internet channels
Explain how mobile apps can increase customer interaction
Role of the Web to Retailers
Let's think again about your own shopping behavior. What was the last thing you bought online? Why did you decide to purchase it this way? Was it the only way the item was sold? Was it the most convenient way to shop? Was it because you were able to shop easily, getting product information and comparing alternatives? Did it offer the lowest price? Did you go to a manufacturer's site? Or, did you buy it through a retailer? What about a retailer that's exclusively online like Amazon? Your own answers to these questions provide much of the detail for why e-tailing is important to retailers.
The overarching benefit of e-tail is that it extends the reach of retailers to more consumers. However, this isn't just about physical reach and expanding beyond the four walls of a store. Instead, e-tailing also helps retailers engage consumers without the limits of store hours, available staff, and inventory on the sales floor or in back-stock. E-tailing makes the full resources of the retail organization available to shoppers without constraint.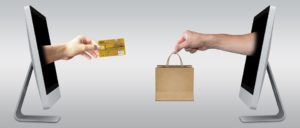 Certainly, we understand that e-tailing allows retailers to reach consumers outside their immediate market, pushing past individual store locations to reach distant or previously inaccessible customers. But, another key feature of e-tailing is that it is always "open," so shoppers are not only able to access stores more easily, but they're also able to shop when it is most convenient for them. This shifting of place and time elevates convenience.
Further, e-tailing can also have a positive impact on customer service for retailers. Think about times when you've been shopping in-store, unable to find an associate for assistance or finding one who wasn't able to answer your questions well. What about times you were shopping for a specific item, only to find it wasn't available in your size or in the preferred color or available in-stock at all. Those frustrations of customer service can be mitigated and minimized with effective e-tailing.
E-commerce sites can be a direct line to the consumer to provide service and support, when they are well well-maintained by retailers. To be well-maintained, they must be secure, easily navigated, optimized for desktop and mobile navigation, and updated with current product and promotional information.
Effective e-tailing relies on systems that provide product information, inventory tracking, promotional offers and secure transactions. Thus, it's possible for an interested shopper to visit an e-tail site, review products, ask questions, make selections and check-out, selecting from multiple delivery options. Later, they can revisit the site to track the progress of their order and estimated delivery time.
Another benefit of e-tailing is that retailers are able to fulfill orders by accessing inventory across their full distribution network. Instead of relying on the allocation of product to individual outlets, e-tailers can pull from reserve inventory to fulfill orders. This is especially helpful in product categories that have multiple size or color offerings. Consider how home goods like towels are managed on-shelf. An individual store receives a shipment of multiple sizes, across an assortment of colors. If a given size or color sells-out, the retailer waits for a replenishment order, potentially missing a selling opportunity due to "out of stock" issues. However, in e-tailing, the retailer is able to pull inventory from a centralized location, or perhaps from a better stocked store location, to fulfill the customer order.
Further, retailers are able to gather a tremendous amount of information about their customers through e-tailing. They can monitor how many visits their site receives, even determining which visitors are new and which are returning. They can track what pages are viewed most frequently and how much time shoppers spend on them. They can identify what products are purchased most and what items are frequently purchased together. They can assess how changes to price or positioning affect product sales. They collect shopper information, including shopping frequency, items shopped, size of purchase, e-mail addresses, physical addresses, and payment information.
True, the collection and use of this information could feel like an over-reach and an invasion of privacy. But, some consumers freely enroll in customer relationship management (CRM) programs, inviting the retailer to continue marketing to them. In turn, retailers develop better understanding of the customer's preference, making better recommendations about complementary items or providing guidance on product usage. This is potentially value-added and expands the customer relationship.
In all, e-tailing can be a tremendous benefit for retailers, making them more accessible to customers and providing enhanced service, during the shopping process and beyond through CRM programs.
Practice Questions
Advantages and Disadvantages of Electronic Retailing
As you learned in the previous section, e-tailing has some tremendous benefits for a retailer. It allows the retailer to reach consumers outside their immediate market area, as well as makes the retailer more convenient, as consumers can shop when and where they want, regardless of actual store locations or hours. It also maximizes the retailer's ability to fulfill orders, as they pull from reserve inventory across their distribution network and it elevates the retailer's customer service by providing shoppers direct access to product information, accurate inventory tracking, current promotional offers, and secure transactions. Finally, it provides a tremendous amount of information for the retailer, which can be analyzed to make adjustments to their operations or deployed to develop CRM initiatives with shoppers
These factors can be developed to create competitive advantage and deepen customer relationships. However, e-tailing does present some risks, which can disadvantage a retailer.
For example, developing and maintaining e-commerce infrastructure is very expensive. E-tailing capabilities require web development, optimization, inventory control, data security, and order fulfillment. These aren't "one-time" costs. Instead, they're recurring, which means that a retailer engaged in e-tailing must be resourced to maintain its online presence. This includes systems that reflect current inventory and are updated to show changes in merchandise, pricing, or promotional activity.
In addition, e-tailing does not provide the same social or emotional experience as in-store shopping for the customer. Products are merchandised on a two-dimensional screen. They cannot be touched, handled or experienced. They cannot be tried on or sampled. Also, because of how they're merchandised or displayed, it may be more challenging for e-tailers to cross-sell complementary items. In this way, e-tailing may be effective transactionally, but may not easily support expansion of the shopping basket.
Further, for high-consideration items, e-tailing may lack the customer support shoppers prefer to experience. That is, for involved purchases, shoppers may want to engage with a saleperson to ensure that they fully understand the product features and benefits they're considering. Further, they may be interested in recommendations or product add-ons like accessories or extended warranties, which aren't automatically offered in online transactions.
Another consideration is that shoppers are responsible for the return of incorrect purchases. This is important if there are return restrictions, such as within a specific time period or "in original packaging," or if there is a cost associated with shipping or restocking the item. These can be detractors and create a negative shopping experience.
The final negatives to e-tailing, which can create disadvantages for the retailer are related to security and privacy. Data breaches, which have compromised consumers' personal and financial information, may make consumers apprehensive about the volume of transactions they make online. Further, they may raise questions about the level of security of e-tailers, especially as it relates to protection of payment information. Similarly, consumers may be reluctant to share their personal information, which will be used for ongoing marketing initiatives. While CRM programs, over time, should reduce marketing clutter and allow for customized offers, they can be construed as intrusive and a violation of the customer relationship. If not managed well, concerns around security and privacy can undermine e-tailing efforts.
Practice Questions
Mobile Apps and Customer Interaction
Mobile software applications or "Apps," as they're most commonly known, are computer programs designed to run on mobile devices like smartphones and tablets. They are distinguished from desktop or web applications, which run on desktop or laptop computers and web browsers, respectively. Originally, apps were developed as productivity tools and for information retrieval, but the growth of smart phone and tablet markets, combined with people's comfort using apps, has led to their popularity.
Because apps run on mobile devices, which have finite battery capacity and span a wide array of hardware design and screen sizes, there are design constraints in developing apps. They are not just scaled down versions of websites; instead, they are designed with an interface to support specific activity and functionality. As such, they can be meaningful transaction tools for consumers. In fact, app commerce is said to perform better than both desktop and mobile web when it comes to browsing duration and interactions. Average order value is reportedly greater with retail apps than traditional e-commerce, and conversion rates on apps are twice that of mobile websites.
One of the reasons apps have better consumer engagement is that they're specifically designed for the needs of a mobile user to facilitate transactions. That is, they can leverage mapping technology, tie-ins with social media and stored payment methods to make transactions nearly frictionless. Take, for instance, the app published by Starbucks. Not only can it be used to locate nearby locations, but patrons can order and pay through it also. In fact, consumers can even earn points that can be redeemed for merchandise on future visits.
In this way, the app supports engagement with the brand and its products. It identifies nearby locations, reduces wait times, and offers payment flexibility, which may support upselling as customers can used stored credit/debit information and are not limited by their cash in-hand. Further, the collection of points adds an element of gamification and reward, which can increase patronage and loyalty.
Amazon, for its part, offers an app for users. And, while it does lack some of the functionality of its website, shoppers can easily use the app to complete transactions. For an e-tailer like Amazon, the app is a powerful tool because it enables a consumer to search for items, read customer reviews, compare prices, review similar and/ or complementary items and complete the transaction using their stored credit card information. More importantly, because the app is available on mobile devices, it supports consumer search and shopping on-the-go and at the moment of inspiration.
Mobile apps are helpful tools for consumers and for firms because they're focused on specific activities. In the world of e-tailing, this focus is upon supporting transactions. As you can see with the examples from Starbucks and Amazon, this can be done very effectively to deliver high levels of customer service and customer value.
Practice Questions
Licenses and Attributions